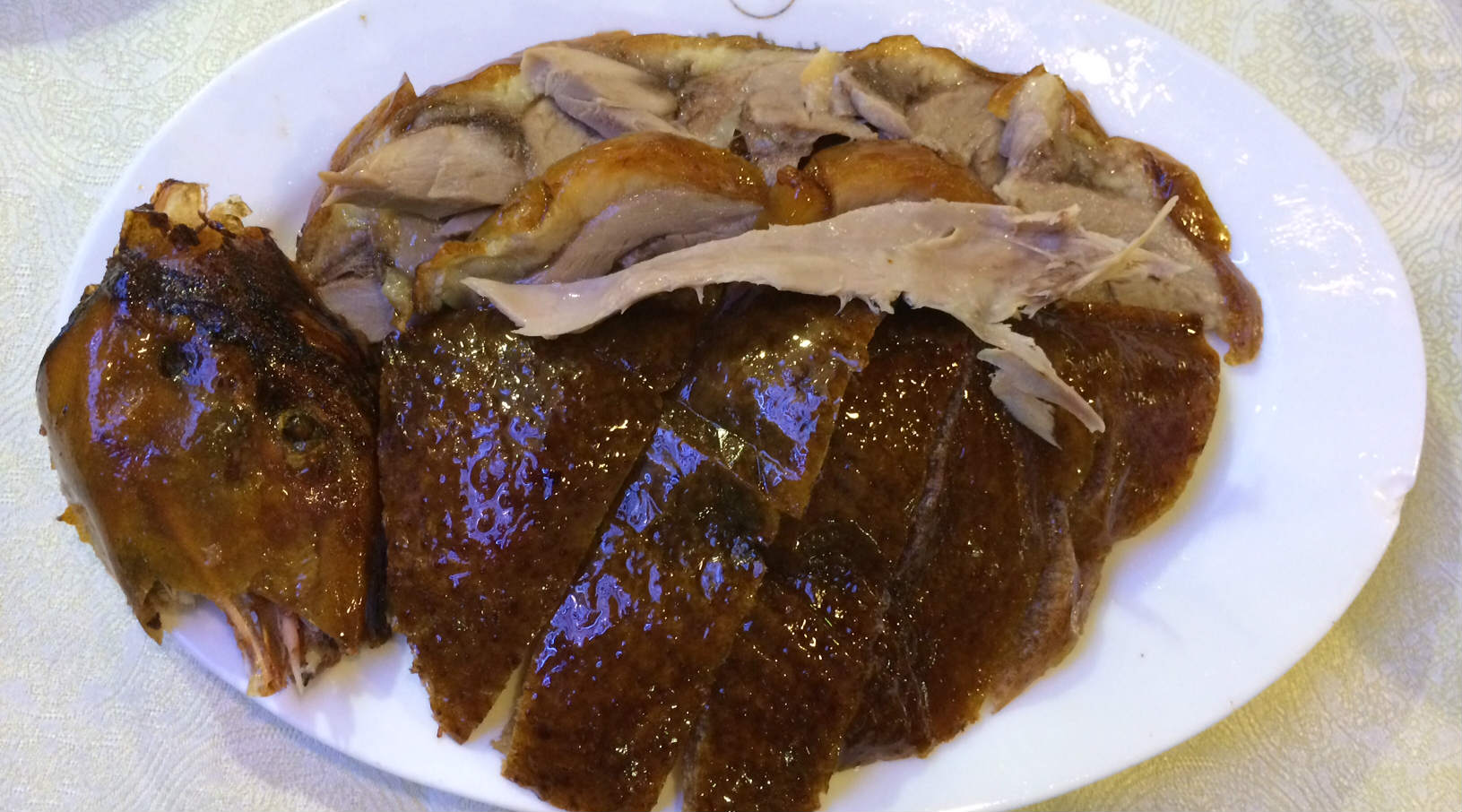 Duck is a Beijing classic, and everyone has their favorite, but which one is really the best? We went to try Bianyifang, a laozihao, or time-honoured brand, that serves up some mean duck, and has been doing so since 1416. Hence the impressive time-honored brand label. It is also in the running for the Beijinger 2015 Reader Restaurant Awards in the category Best Duck (Casual).
The interior at their Chongwenmen branch is what you would expect, a typical mid-range Chinese restaurant: Big wooden tables with cream tablecloths, imperial-style decoration, and waiters that are trying hard to care and to hide their slight fear of foreigners.
There are a bunch of different options for crispy roast duck, whether you like yours vegetable or flower infused. We went for flower infused (RMB 198 for a whole duck, RMB 108 for half a duck) which was delicious. We couldn't really taste the flowers, but the duck was succulent and went very well with the sauces.
The skin and sugar combination was also mouthwatering, and there was a copious amount of crispy skin (unless you are a true fiend) to go around. The cucumber and spring onion fillings were also plenty, giving you the freedom of making your duck pancake the way you like it. 
The rest of the menu is impressive if somewhat intimidating, with a bunch of duck-based concoctions that may be too daunting for some foreign tastebuds. For example they serve a Kung Pao Duck Heart (RMB 48). For picky eaters looking for another duck dish, however, in true Northern Chinese style there are also Dumplings Stuffed with Duck (RMB 28 for 10 dumplings).
We went with a Dry Pot, or ganguo. The choices were plenty; think cabbage, cauliflower, tofu, and potato, so we went with Griddle Cooked Dry Tofu with Spicy Sauce (RMB 42). The ganguo was definitely spicy, but incredibly moreish. And, my personal favorite, there were plenty of onions at the bottom, burnt to perfection as the attentive waiter turned off the flame at the exact right time. We also went for Fried Broccoli with Garlic (RMB 38), a beautiful green dish that hit the spot (and provided some necessary nutrients, yikes).
All in all, I can see myself taking visitors here for duck. Not too pricy, but with all the service you expect from the whole duck occurrence – we were pleasantly alerted when our duck was being carved slightly to the right of our table.
Either way, if you haven't done so yet, go check out Bianyifang and some of the other nominees, and exercise your sacred right to vote.
More stories by this author here.
Email: [email protected]
Instagram: @s.xuagram
Photos: Margaux Schreurs

Visit the original source and full text: the Beijinger Blog