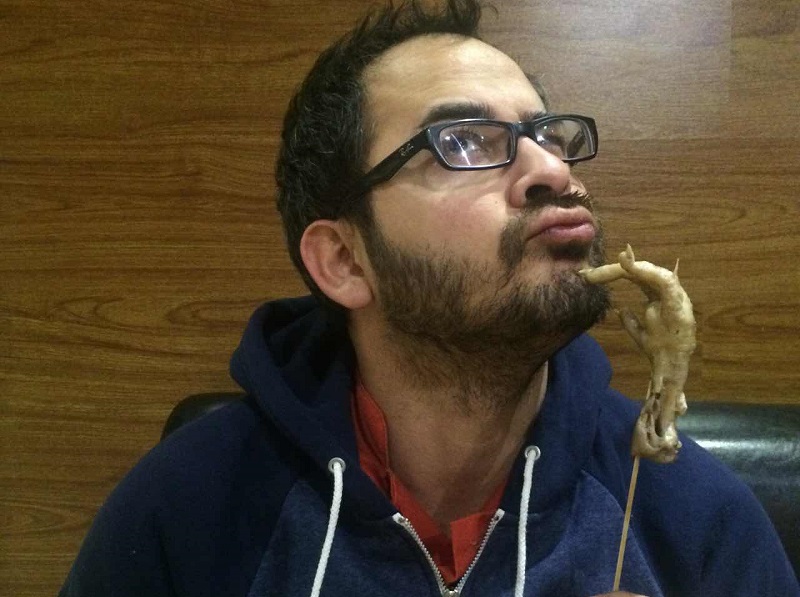 This year our 2015 Reader Restaurant Awards have four personality-based categories: Best Chef, Best Manager, Restaurant Personality of the Year, and Food Entrepreneur of the Year. During the voting period that runs through March 8, we're profiling a few of this year's crop of nominees.
This time around we present Gordon Kutil, general manager and co-owner of The Big Smoke, who has been nominated in the Restaurant Personality of the Year category.
TBJ: Give us a little background about yourself.
I'm from Manchester, Tennessee, which basically the same as Manchester, England, but just more refined. Kidding! Have you ever been to the south? I started working in restaurants in college while I was getting my graphic design degree, and came to Beijing after on a whim to visit a friend. Eight years later, I'm still here.
TBJ: Have you always been this charming?
Not really. I was a total jerk until I came to the beautiful country of China, where my patience increased and my etiquette became more disciplined. I'm in total Zen here man! Maybe? Also, those of us from Tennessee are famous for "southern hospitality" for a reason.
TBJ: What does Beijing need to become a more personable city?
In order for Beijing to become a more personable city in general it just takes time. The city is constantly evolving, but has a long way to go to reach international standards in most ways. When it comes to restaurants, it's about getting your staff to care and believe in the value of good service and food, and training your staff to do that is a constant struggle. If servers treated customers as they would treat family guests that come over their house for CNY and holidays, the city would be much more personable.
TBJ: If you could host anyone, alive or dead, at your restaurant, who would it be and why?
Hands down I would have to say my Mother. Unfortunately she passed away a few years ago and never got to enjoy my cooking or cocktail making in Beijing. She would also not let me cook for her, since she is a Mom. After all, who can cook better than your mother? No one! She is a great part of why I cook the way I do. She truly was a talented woman in the kitchen. And did I mention she was also Thai? It was great to grow up on Thai cuisine.
TBJ: Tell us about one of your favorite places to eat in Beijing, aside from your own.
That's a tough one since Beijing has so many places to choose from. For Chinese I would have to say the Yunnan hot pot restaurant Forgotten Perfume in Shimao Mall. It's on the fourth floor and it is yummy. Fresh, spicy and you can choose from a lot of various hot pot broths and sauces that are very different from your average Sichuan hot pot place. This is also the place my girlfriend Sarah Ting-Ting introduced me to, and made me ask her to be my girlfriend. Ya! Memories. 
Click here to read previous editions of A Few Words With wherein we profile some of the top players in Beijing's food scene during the voting period for the 2015 Reader Restaurant Awards, which runs through March 8.

Visit the original source and full text: the Beijinger Blog