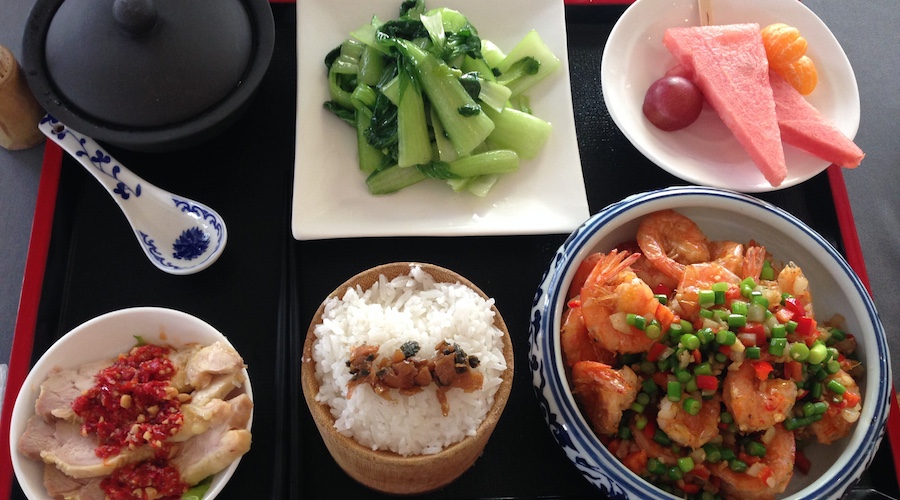 With most offices returning to work tomorrow, you're going to want to start thinking about lunch options to help you get through those post-holiday blues. Luckily, the Sanlitun lunch crowd has a great new option in the form of Karaiya Spice House, which has just introduced a menu of great value lunch sets. Sister restaurant Hatsune has long had a great value lunch deal, so it was only a matter of time before Karaiya introduced something similar. 
Starting from RMB 68 and all below RMB 90, there are nine different sets to choose from, including a range of meat, fish and vegetable options. All the sets come with an appetizer, stir-fried vegetables, soup, rice and fruit. We tried the smoked chicken, fish and ham, a version of the famous Hunan dish known as "smoky flavors steamed together" (腊味合蒸), and the salt and pepper prawns. The flavors in both were fresh and bold (although the smoked dish was a bit salty for the portion size) and with the accompanying small dishes we were truly stuffed by the end of the meal.
It's not just offices that are back to work; most restaurants are gradually opening their doors as well. Beijing's latest (and rapidly becoming one of it's most popular) Italian restaurant, Bottega Fratelli Salvo, is celebrating the start of the Year of the Sheep with a temporary happy hour promotion. Get good deals on mixed drinks and bottled beers in the style of traditional Italian aperitivo.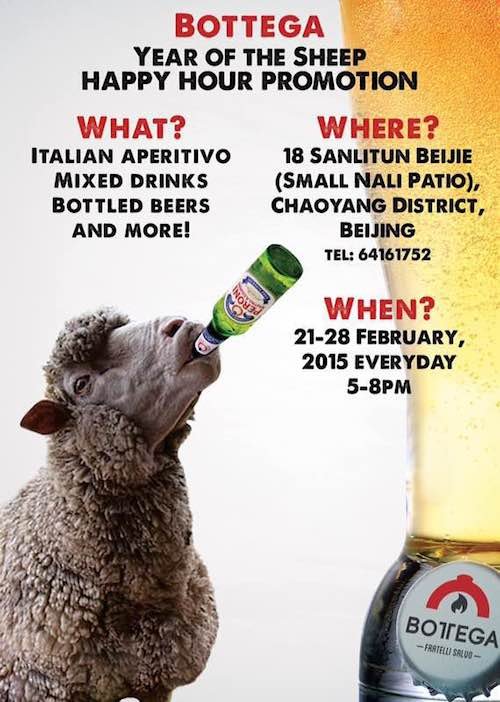 More unmissable dining events and promotions this week:
It's your last chance to catch O'Steak's Spring Festival promotion, offering 20 percent discount on all menu items (ends Feb 25). You'll also receive a special hongbao after your meal.
Not a bad choice if you're in the Lidu area, the Crowne Plaza Beijing Lido's buffet restaurant Matrix has a buy-one-get-one-free promotion on their dinner buffet.
Ease your longing for a home-cooked Sunday roast at the Conrad's 29 Grill, with their new Sunday Roast Carvery, launching Sunday March 1.
More stories by this author here.
Email: [email protected]
Instagram: @gongbaobeijing
Twitter: @gongbaobeijing
Weibo: @宫保北京
Photos: Robynne Tindall

Visit the original source and full text: the Beijinger Blog