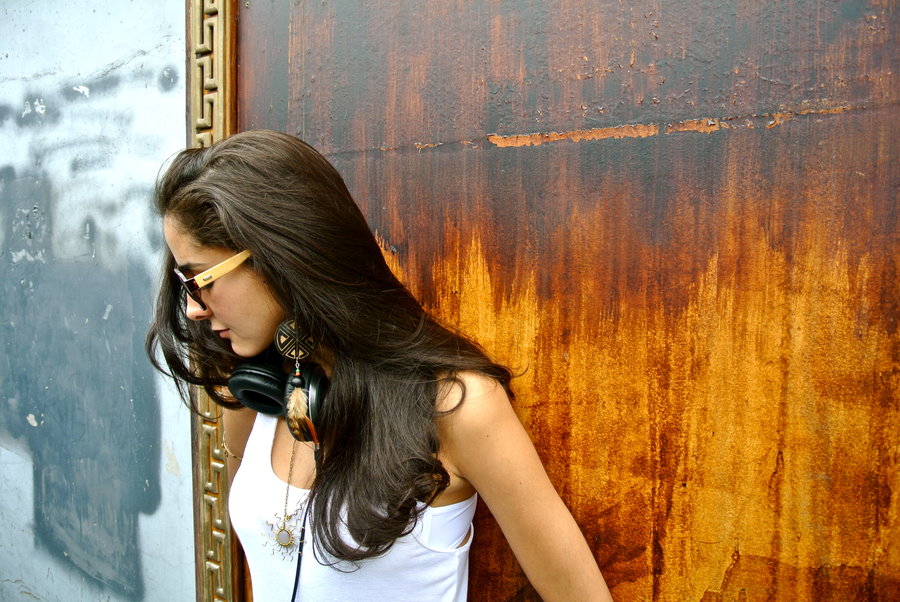 How cool is it to be from Brazil right now, between hosting the World Cup and the Olympics?
With all that going on there, why are you here in Beijing? I left Brazil eight years ago. Since then I only go back to visit. It doesn't look like I'm going back to live there anytime soon. I am happy for my country to be hosting these events. I would love to be there but I can't, my life is here now.
Can you play any instruments? If so, what?
I am currently learning how to play piano and classic guitar. I think that to call yourself a musician the least you should know is how to play an instrument. The decks are an instrument, it also requires practice but I reached a level which matching beats aren't enough. I chose piano because it's the basic for making music and classic guitar cause back in Brazil most of our songs are played on a classic guitar, it's also good to practice my singing. That's another thing that I definitely want to add on my list of skills.
What song would you sing on a TV talent show?
So I have a good friend, helping me out. She is the singer at the hotel where I used to work at, she is also coaching. She gave me the idea for this one song that could not have worked out better. It's called "Soldier Of Love" by Sade. I felt really connected to the song, so I've been practicing it for a while.
Name a song or record for your time in Beijing?
I've been in Beijing for almost eight years ... It's been a looong ride to here, so it's difficult to name one song in particular. There have been lots of different phases. I started working here as a model and three years later became a dj. So a lot has happened and musically speaking as well. A lot of the artists that I used to like nowadays are very commercial but a song that marked for me was "Man With The Red Face" by Mark Knight & Funkagenda. It's a song that I still play these days and still love it.
What was the first record you ever bought?
This one I remember well. I usually don't buy tracks, I think artists should be paid well to perform but music should be free. But this particular song called "Hold Back Love (Lovebirds Instrumental Remix)" by Kraak and Smaak Feat. Lex Empress was impossible to find. Since I've got a project called "Ju & Yu" which I DJ with a singer, her name is Daria and she is Russian. We are very limited on having to find instrumentals for songs we want to perform so sometimes we have to buy them!
What was your favorite period or year for music?
I think the 90s was definitely was the best period for music. People actually cared about art in the 90s, there was actual thought put into the music. Art was a form of work not just what it is nowadays. Beat so you can move to, lyrics that you can easily remember that makes no sense or teach our children things that they should not be learning at this early age.
Top Five:
1. "Scala" by Agoria
2. "Changes" by Hayze & Sandy Rivera
3. "My Head Is A Jungle (Gui Boratto Remix)" by Wankelmut & Emma Louise
4. "Underground Is Armed (Peter Brown Bootleg 2007)" by Pryda vs. Celeda
5. "Beachball (2010 DBN Remix)" by Nalin amp Kane
Catch DJ Juliana Lima's latest tracks on Soundcloud.
Photo courtesy of DJ Juliana Lima.

Visit the original source and full text: the Beijinger Blog