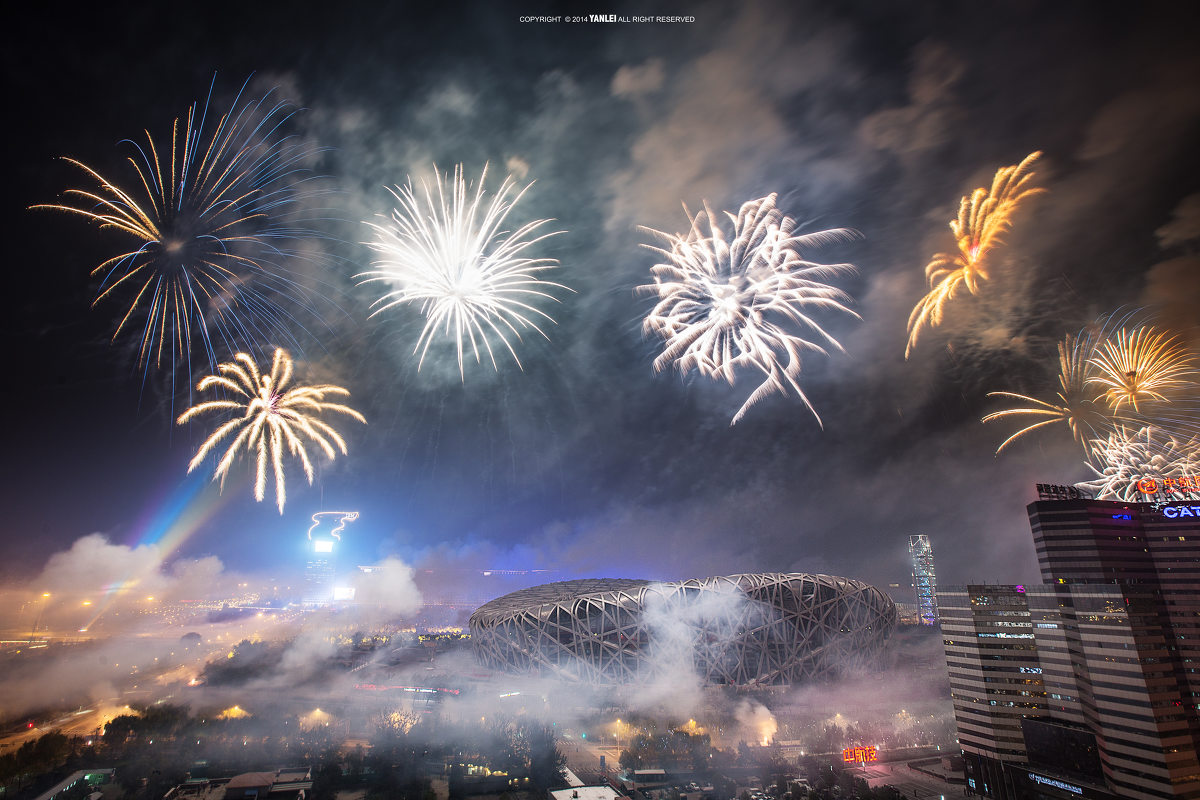 Thinking of setting off your own fireworks this year? Make sure you know what you are doing, as Beijing cuts firework selling days down to eleven (February 12 to 23) – the least amount of days in eight years, China Daily reports. On top of that, only 942 firecracker stalls were approved this year, also down from previous years. The Hope is that less fireworks will reduce pollution levels across the city (as well as injuries and the WWIII vibe as a byproduct).
Between February 17 and 18, fireworks are allowed 24 hours per day. From February 19 until March 4, fireworks are allowed from 7am to midnight.
There is a common misconception that fireworks are only allowed outside the Fifth Ring, thankfully this is not true, with the exception of the airport, other important transport hubs, gas stations (well, duh …), warehouses for flammable materials, medical institutions, kindergartens and nursing homes, cultural heritage locations, subway and bus stations, parks, lawns and military sites. That leaves absolutely nowhere left to set your fireworks off, but if you want to buy some anyway, here is how to do it.
A great place to start is Doudou, who have completely missed the irony on APEC Blue fireworks, a gem in their extensive collection. Allegedly they contribute less to the air pollution, and are made using the same science behind the fireworks used during the APEC summit.


If you speak and read Chinese, you can ring them up to order your fireworks, and pick them up from any of their many locations. If you don't, head to any of these locations below, and gesticulate wildly (without accidentally buying too many explosives or the ones that might blow your face off).
Workers' Stadium North Gate, Dongcheng District
东城区工人体育馆北门
Jinyuchi Xijie Nankou (East Side), Dongcheng District
东城区金鱼池南口东侧
Yuetan Nanjie, Wanfang Shopping Center (East Side), Xicheng District
西城区乐坛南街万方商场东侧空地
Xi Neidajie, Jinxiang Pharmacy (Parking Lot), Xicheng District
西城区西内大街金象大药房前停车场
Chaoyang Gongyuan Qiao (Northeast Corner), Chaoyang District
朝阳区朝阳公园桥东北角空地
Baiziwan Lu and Shimen Lu Junction (Southwest Corner), Chaoyang District
朝阳区百子弯路与石门路交叉口西南侧
Anzhen Jiedao, 15 Huangsi Dajie, west of Jingya Grand Hotel, Chaoyang District
朝阳区安贞街道黄寺大街15号净雅大酒店西侧
1A Xizhimen Beidajie, south of Haodekuai Pharmacy, Haidian District
海淀区西直门北大街甲1号好得快药房南侧
18 Yuanmingyuan Xilu, Zhongfa Baiwang City (Southern Square), Haidian District
海淀区圆明园西路18号中发百旺商城南广场
Yuqiaodi District, Yu Qiao Xilu, opposite Yiyuan Xili Area, Tongzhou District
通州区玉桥地区玉桥西路艺苑西里小区对面
And remember, be safe kids! No one wants to end up on a public awareness fireworks safety poster.
More stories by this author here.
Email: [email protected]
Instagram: @s.xuagram
Photo: sell.pinshuo.net

Visit the original source and full text: the Beijinger Blog