"Cheerful assistants."
So turns out working in Hell makes people happy.
Stepping in to Satan's Hotdog we were met with widened smiles and eager wait staff who, through no apparent use of pitchfork prodding, were here to genuinely make our ordering experience as painless as possible. Underneath a radiant green lit sign the swirly Satan brand told us on posters that we were in a 100 percent preservative free, non-processed, all natural foodie environment. I mean, if you're all for injecting yourself with gutter oil then this place will be your 11th circle, but for the rest of us in Beijing a healthy dose of food safety care is akin to finding the Holy Grail (without a killer bunny mauling you in the process).
Prices won't set your facials into a modernized Edvard Munch painting (The Scream, guys) but be careful, the Satan's Hot Dog shown in the picture is one with extras added. Grab your base Satan's hot dog (RMB 29) and then go hell for leather with added flavors like cheese (RMB 5), meat sauce (RMB 3), sour cucumbers aka pickles (RMB 3), and chili peppers (RMB 3). There's also a classic hot dog and a veg hot dog available for those hunting for a less guilty indulgence.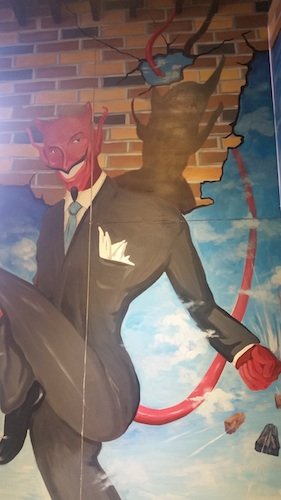 We added cheese and sour cucumbers to the dog and waited while Michael Jackson's This Is It blared from the tv screen. Just as the haunting 'Thriller' laugh cackled our buns arrived stuffed with a monstrously juicy sausage that had been sliced to allow for perfect cooking throughout, and additional meat surface to slather our ketchup, mustard, and Heinz relish across.
Biting down we were pleased that while the whole wheat bread needs some finessing to fix the texture, the bread to meat ratio was bang on, and we weren't left with an awkward bite of soggy bread at the end, which no one ever likes to end a meal with.
Once the bread debacle is cleared up I can see myself jaunting off to here when I'm in Sanlitun because I'll be damned if there's anything better across the road at these prices.
Satan's Hotdog
Daily 11am-9pm. 6-116, 1F, Building 6, Sanlitun SOHO (South) 8 Gongti Beilu, Chaoyang District (5785 3813)
工体北路8号三里屯SOHO6号商场一层6-116商铺
Photos: Erin Strong

Visit the original source and full text: the Beijinger Blog