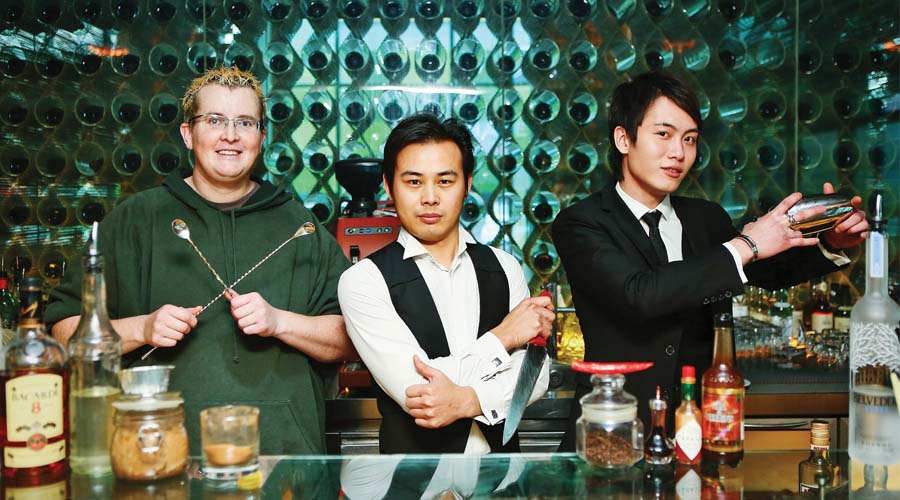 Three bar masters. Three "secret" ingredients. One judge. Would Beijing's cocksure mixologists fumble when faced with an unusual condiment or unfamiliar fruit? Or can they concoct a drink to impress one tough taster? In the spirit of Iron Chef, we put our bartenders to the test by announcing a secret ingredient, giving them 10 minutes to conceive of and create a mix, and finding out just how creative a cocktail can get. Let's meet this month's Iron Bartender contestants ...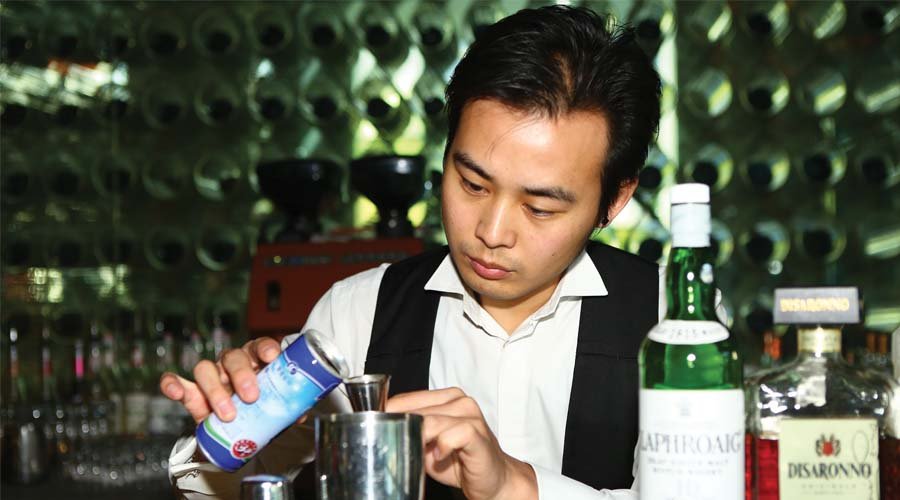 A Shan
Co-owner, D&M Bar
Vincent Guo, better known as A Shan, has been bartending around China for 12 years, with a half-decade stint in Guangdong and one year in Shanghai. Before A Shan and his par tner Jerry opened D&M Bar near Melody Karaoke in Shuangjing in 2012, A Shan built up experience at Apothecary and Ala House.
Steven Lin
Former bar director at Circle Club
Steven Lin has eight years of bartending experience, but seven of them have been at lounges in Taipei. There, one may have found him at Gamers or Uptown Kitchen & Bar. He moved to Beijing to be closer to his family, and praises the capital's cocktail bars. When he's not behind the bar, he may be holing up in d lounge, Janes and Hooch, or Mohiki.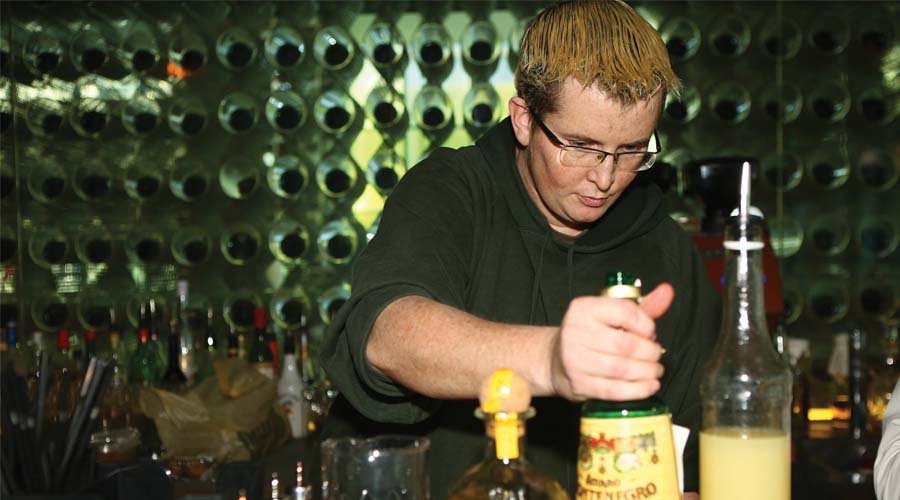 Dustin Merrett
F&B Director, Windy City Ballroom
While Dustin is technically not a bartender, his flair for flavor pairing certainly makes it seem that way. Cooking since he was 13 years old in Canada, Dustin experimented with molecular gastronomy at a catering firm. He's best known around town for his desserts (the Home Plate bread pudding with bourbon sauce is to die for).
Michael Li
Mesh, The Opposite House
Michael Li studied hotel management in college before landing a bartending gig at Mesh six years ago. Currently, he runs a Thursday night social that draws an LGBT-friendly crowd, and every Friday. Guests are treated to buy one, get one free champagne, but it's the signature cocktails that put Mesh on the map.
 
Round One: mulberries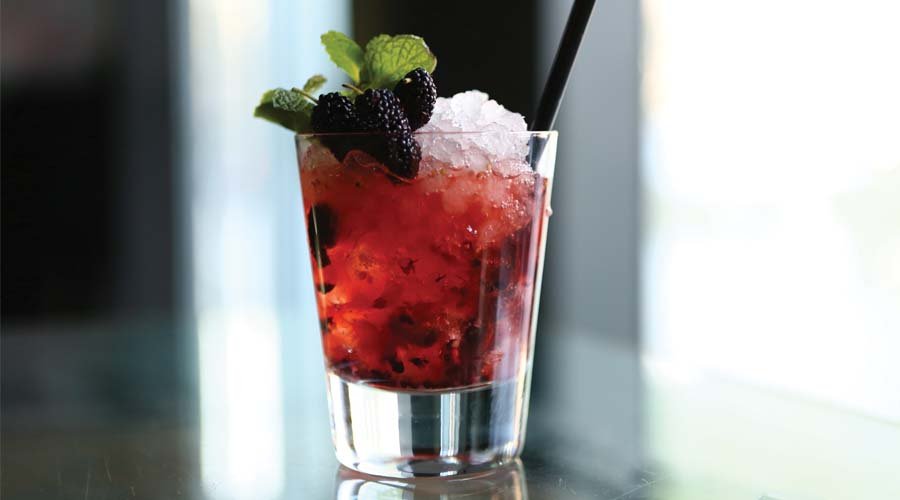 Caramel syrup, lemon juice, raspberry liqueur, crème de cassis, Havana Club rum, Monin caramel syrup, and mulberries

Wild elderflower syrup, Chardonnay, Belvedere vodka, mulberries, and soda water

Rum, Scotch whiskey, crème de cassis, lemon juice, Dijon mustard, brown sugar, and mulberries, garnished with lemon and mulberry
Verdict: Li enjoyed all of the drinks, but it was Steven's that highlighted the fresh mulberry. Raspberry liqueur overpowered A Shan's drink, and mustard took over in Dustin's.
 
Round Two: mayonnaise and/or almond milk

Monin almond syrup, Disaronno liqueur, Laphroaig Scotch whiskey, and almond milk, garnished with a cherry, lemon peel, and mint leaves

Talisker Scotch whiskey, Bailey's, and almond milk, garnished with olives covered in mayonnaise and pepper

Lemon juice, amaro digestive bitters, Patron tequila, mayonnaise, and simple syrup, garnished with pickle and chili and salted rim
Verdict: Dustin managed to use mayonnaise to produce a winning, creamy, well balanced beverage. Li gave Steven credit for creating a clever, albeit unusual, garnish.
 
Round Three: canned pumpkin

Vodka, Scotch whiskey, Averna bitters, Worcestershire sauce, Tabasco, Angostura bitters, and cloves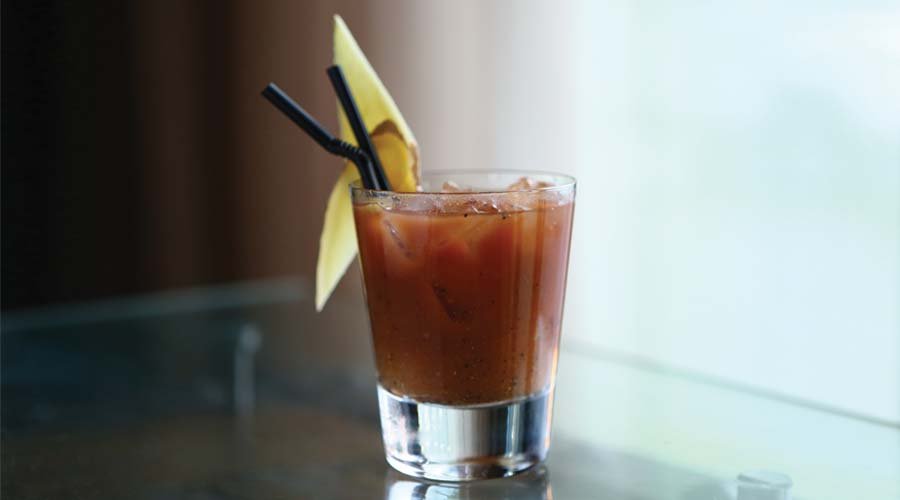 Maker's Mark bourbon whiskey, port, Galliano, ginger, and pepper, garnished with ginger

Vodka, rum, simple syrup, brown sugar, vanilla extract, cinnamon, cloves, and nutmeg
Verdict: A Shan and Steven created similar cocktails with spicy notes, and a little salt would have made these pumpkin drinks pop. Dustin won the round with his boozy dessert (heavy on the booze!).
Photos by Ken

Visit the original source and full text: the Beijinger Blog