We're not fans of the phrase "Chinese New Year." I mean, we're in China, after all. If people call it Spring Festival and wish each other Happy New Year, then there's no need to qualify it.
It never feels like spring during Spring Festival, but it may be the beginning of the march out of winter, and it's the most traditional of holidays. One could fake it through 36 hours of Christmas, but Spring Festival is a week – two weeks, actually.
However, unlike the olden days, when the sun set on Beijing on Chu Xi (the night that is the eve of the new year) and restaurants and shops remained closed for as long as two weeks, now the time when the unattached Beijing resident is left to his or her own devices is only one or two days in most cases.
Beijing is also at its most quiet during Spring Festival – fireworks excepted, of course. One really gets a sense of how many true Beijingers there are, as most people from out of town head home to be with their families. The result is minimal traffic and a big city that feels like it's scaled down to a somewhat large town. Go out and enjoy the city you live in before it swells back to its normal size.
So before you take out your calendar and write "Game of Thrones Marathon" or "Drink" on it for February 18-24, have a look at our suggestions below for making the most of your holiday. Moving temporarily to one of our suggested staycation locations might also help to make it even more festive.



Temple Fairs
Like circuses, carnivals, and state fairs, these annual celebrations rotate from temple to temple throughout the holiday week, although some temples now stage multi-day events. Think of it this way: imagine if a number of hawkers and performers popped up outside your local church on Christmas or Easter. When the fairs first started centuries ago, they were ersatz celebrations, catching people who came to give offerings for the new year at temples, and maybe bought a seasonal treat or handed out a few coins for alms on their way in or out. Admission is usually free. Check here for some of the best temple fairs happening around the city this Spring Festival.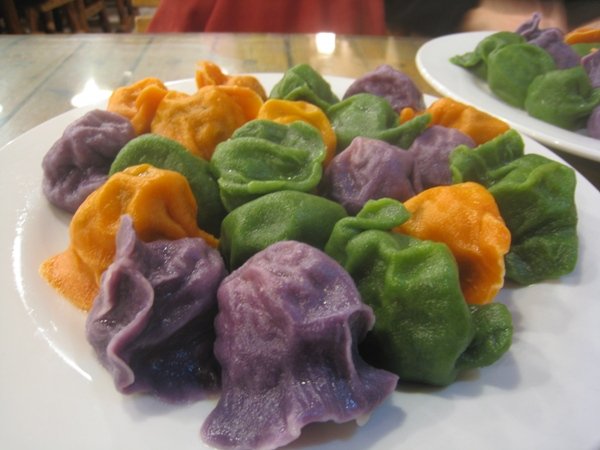 Jiaozi
In the North, Spring Festival revolves around a single food, the making, boiling, and eating of which is as much a part of the holiday and its tradition as preparing a Christmas goose or turkey is elsewhere. Except for Hui and other Muslim minority families, who will use lamb, pork is the main meat for jiaozi, or dumplings. Someone in the family may receive a coin in one of them, considered lucky, as long as that person doesn't break a tooth in the process. Usually they are boiled on Chu Xi, then can be steamed or fried if there are any left over the next day.
Try Beijing's best jiaozi during the days off. Baoyuan Jiaozi Wu is a foreigner favorite, as much for the colorful (although non-traditional) wrappers they use as for the tasty, slightly crunchy filling they use. Beijingers don't heart this place because it's basically a Sichuan restaurant. So if authenticity drives you, head over to Xian Lao Man (the name translates very roughly as "always full of filling"). An English menu is available, but even then the sheer number of filling combinations is almost incomprehensible. Order a whole bunch and find a new favorite.
Baoyuan Jiaozi Wu, 6 Maizidian Jie, Chaoyang District (6586 4967)
Xian Lao Man, 5 Anhu Beili Yayuan, Gulou, Chaoyang District (6404 6904)
Call to confirm holiday operating hours at both restaurants.
 
Fireworks
While the enthusiasm for fireworks has dipped somewhat since 2008 celebrations that were almost nuclear, Beijingers remember clearly what it was not to have them: like some gunpowder prohibition, fireworks were not permitted inside the Fifth Ring Road from 1994 until 2006. Although there has been some talk that Beijing doesn't need the spike in air pollution the temporary conflagration brings, the integral nature of fireworks with the Spring Festival tradition – the noise and flashes are thought to scare away the nian, a mythical monster that descends as the new year arrives – make that unlikely and unpopular.
Fireworks will go on sale in early February at specially-licensed kiosks around Beijing. They range in complexity and price from firecrackers to mortar-like boxes that launch rockets 20 stories in the air, along with some shapes, sound, and even a bit of choreography. Their use is permitted from 7am to midnight throughout the holiday, ending on Lantern Festival, March 1. Please use caution: hundreds of people are still maimed or otherwise injured by fireworks each year, and please keep them away from children.
More stories by this author here.
Email: [email protected]
Twitter: @greatwriteshark
Weibo:​ @SinoScuba潜水
 
Photo: Wikipedia

Visit the original source and full text: the Beijinger Blog