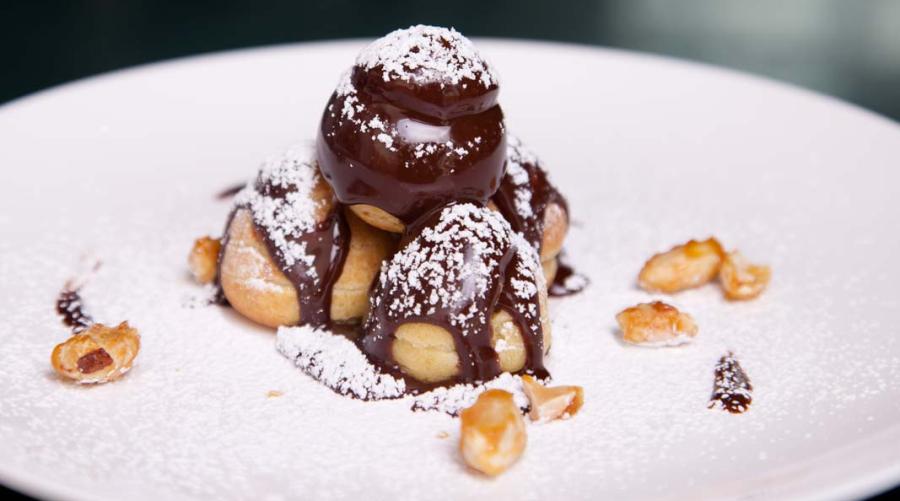 One of my favorite places to while away an afternoon working (ideally an afternoon that turns into happy hour), MODO Urban Deli, has given their menu a bit of an overhaul, adding a number of new salads, pastas, sandwiches, and desserts. Their Cuban sandwich (RMB 75) has long been a favorite of mine, but I was happy to change it up and try the salmon burger (RMB 68), which was more than a match for its beefy counterpart. As expected from these salad experts, the quinoa and roasted veggie salad (RMB 68) is a hit, and from the dessert menu we enjoy a mildly-sweet white chocolate mousse (RMB 48), although the dulce de leche-filled profiteroles look good enough to go back for (RMB 48).
If you're looking for something a little healthier than profiteroles, Miss Muesli have a good deal for February. Buy any two 750g bags of their muesli or granola and they'll give you a 400g bag for free. Give it to a friend or keep it for yourself. Available until February 13.
Speaking of breakfast, we were alerted to the existence of a new company called JoySeed who will apparently deliver breakfast straight to your office, with ordering and payment all done via WeChat. We're trying it out this week and will have more soon.
Finally, I don't know whether I'm late to the party with this one, but I recently discovered that you can buy wines from Marks & Spencer on JD.com. Wines start from RMB 69 and they've got a good looking vintage Cava for RMB 169, as well as their well-regarded Oudinot Cuvee Rose Champagne for RMB 399.
More events and promotions not to miss this week:
Chef Corrado Michelazzo from 10 Corso Como Shanghai is back in town this week serving up a carnival-inspired menu of regional Italian dishes at 10 Corso Como Beijing
Learn how to make dumplings just in time for Spring Festival with The Hutong's Sunday morning class
Sweet Tooth Cafe are going pumpkin mad, with all pumpkin desserts (including pumpkin cheesecake, pumpkin spice cake and pumpkin pie) on special offer
More stories by this author here.
Email: [email protected]
Instagram: @gongbaobeijing
Twitter: @gongbaobeijing
Weibo: @宫保北京
Photo: Courtesy of MODO Urban Deli

Visit the original source and full text: the Beijinger Blog