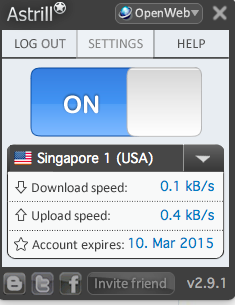 Get nervous: China has reiterated that the use of foreign Virtual Private Networks (VPNs) is illegal, and that companies wishing to provide such services must register in China.
This comes on the heels of reports last week indicating that some of the VPNs, commonly used by many foreigners and some Chinese users to access websites blocked in China, have seen their service disrupted.
VPNs were originally designed for secure point-to-point communications over public networks. They were once thought to be almost impossible or impractical to block due to their critical nature for secure transactions at banks and other commercial services, but recent developments have proved otherwise.
China has been irked that the services are now routinely used by individuals to circumvent blocks that have been put on popular websites and services such as Google and Facebook.
Some companies in China in fact rely on VPNs to function: many require employees to connect to their internal servers via VPN. So far those services have not been disrupted. And given that many of China's governmental departments run social media campaigns on places like Facebook, its apparent that at least some usage of VPNs is tolerated.
However, the government still views these activities as illegal, and has recently move to disrupt VPNs, especially on Apple's iOS devices. Other services, including Astrill and StrongVPN, have reported disruptions to their services this month.
"The country needs new methods to tackle new problems...the development of the Internet has to be in accordance with Chinese laws," said Wen Ku, director of the telecom depeartment at the Ministry of Industry and Information Technology (MIIT), at a press conference Tuesday, People's Daily reported.
VPN service providers wishing to offer services to customers in China should register with the MIIT, People's Daily quoted a "senior online security expert" named Fan Binxing as saying. Fan said he was not aware of any such foreign companies that have done so (nor would we expect them to get permission if they did in fact apply).
China has actively blocked various websites relating to news, politics, and pornography since 1996, and has accelerated the blocking of sites in recent years.
Expect VPN service disruptions to continue.
Photo: the Beijinger

Visit the original source and full text: the Beijinger Blog