Warning
: preg_match_all(): Compilation failed: invalid range in character class at offset 119 in
/home/chinaexp/public_html/wp-content/plugins/membership/membershipincludes/classes/membershippublic.php
on line
848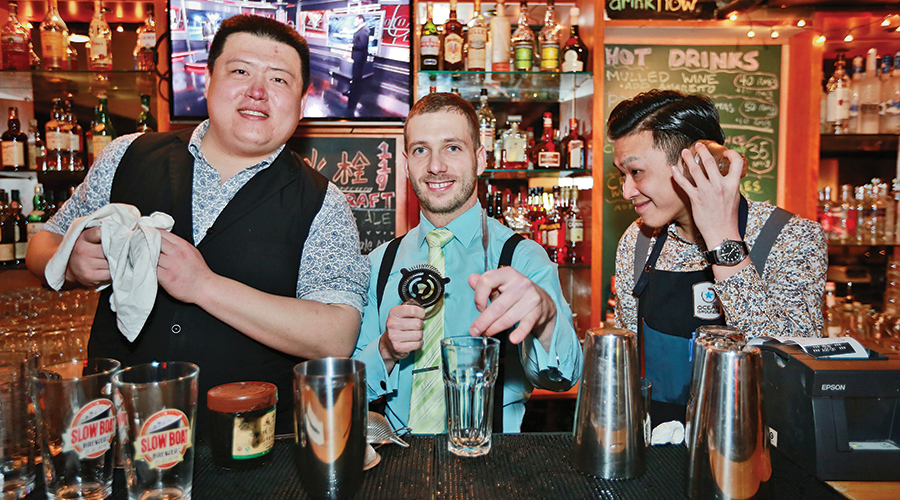 Three bar masters. Three "secret" ingredients. One judge. Would Beijing's cocksure mixologists fumble when faced with an unusual condiment or unfamiliar fruit? Or can they concoct a drink to impress one tough taster? In the spirit of Iron Chef, we put our bartenders to the test by announcing a secret ingredient, giving them ten minutes to conceive of and create a mix, and finding out just how creative a cocktail can get.
THE CONTESTANTS

Paul Hsu, Ocean Grounds
If there's any question as to whether Paul's custom cocktails are worth a try, all one needs to know is that he practiced among award-winning mixologists at Taipei's Barcode. (One of Barcode's first consultants was Peter Kendall of one of London's best cocktail bars, Milk and Honey.) With access to an island of fresh, tropical ingredients, Paul had plenty of elbow room for experimentation.

Attila Balint, Atmosphere
Atmosphere may be the highest bar in Beijing, but it wouldn't be a complete experience without one of Attila's tea-inspired cocktails. Hailing from Hungary, Attila spent five years bartending on cruise ships around Europe before spending time in Austria and Germany. Look for his Gao Shan Lady, which pairs Cointreau and Beefeater Gin with Taiwan's signature oolong tea.

Eric Liu, Mao Mao Chong
Eric is the partner of Stephanie Rocard of Mao Mao Chong, and fans of the award-winning bar will see him a lot more after Rocard leaves China early next year. The former BBC bartender from says to look for more food and his new creations on the menu. Meanwhile, customers can take a bit of Rocard's legacy home with them via bottled MMC infusions.
THE JUDGE

Kenn Bermel, The Local
Kenn was gung ho about judging for Iron Bartender – one look at The Local's homemade infusions, syrups and spices confirms he has an open mind when it comes to flavors. He did warn us, however, that he couldn't detect whether or not a drink was particularly bitter, so his restaurant partner and former Iron Bartender contestant, Martin Aretino, gave input as well.

Round 1. Secret ingredient: Nutella

Paul
Nutella, spiced rum, vanilla vodka, crème de cassis, water, and Aperol, topped with steamed milk, coffee beans and a lemon twist

Attila
Nutella, bourbon, coriander powder, ginger liqueur, and elderflower syrup, topped with orange peel, mint, and a chocolate goldfish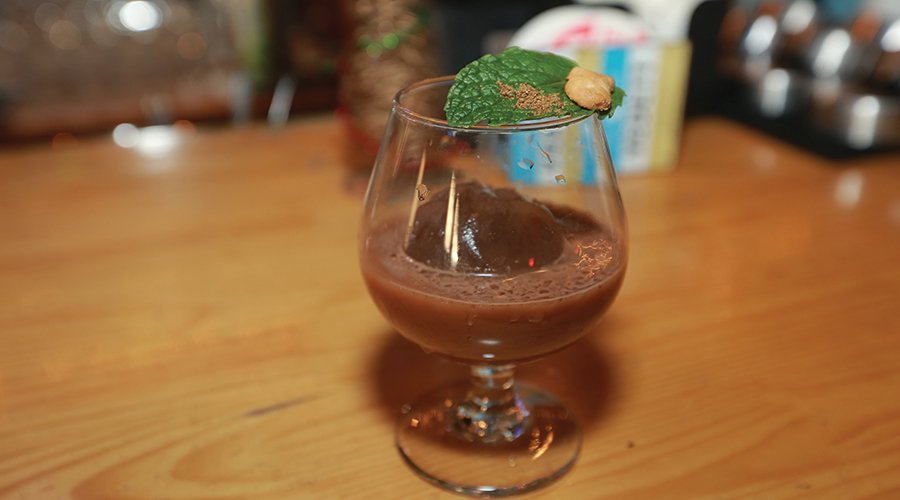 Eric
Nutella, hawthorn-infused gin, crème de cassis, Frangelico, fresh lemon juice, and egg white, topped with chili powder
Verdict: Kenn was thrilled the bartenders avoided creating sweet drinks and noted an interesting, contrast between the nose and the flavor of each one. In the end,  Attila's aromatic drink won him over.

Round 2. Secret ingredient: plum wine
Paul
plum wine, ginger liqueur, and Old Tom Gin, garnished with a twist of orange peel

Attila
plum wine, tequila, honey, Lagavulin, and lime juice, plus orange peel on the rim

Eric
plum wine, absinthe, Grasovka, fresh lime juice, simple syrup and cider
Verdict: Paul's drink smelled like chocolate orange slices, but for Kenn, its flavor and strength didn't surpass Eric's ever-so-slightly sweet and complex concoction. "As soon as I sipped it, I knew it was a winner."

Round 3. Secret ingredient: black sesame paste

Paul
bourbon, lychee honey, yellow chartreuse, and black sesame paste, topped with burnt mint leaves

Attila
Jamaican rum, simple syrup, Bénédictine, black sesame paste, and a few drops of lemon juice

Eric
Lagavulin, coffee-infused vodka, Peychaud's bitters, brown sugar, water, and black sesame paste, cinnamon stick
Verdict: Black sesame paste doesn't make for an attractive-looking drink, but Paul's creation was declared the most bold (and, ahem, herbal), while still being balanced and delicious.
Read previous editions of Iron Bartender here or more stories by this author here.
Email: [email protected]
Instagram: @jrapppp
 
Photos: Ken

Visit the original source and full text: the Beijinger Blog