Warning
: preg_match_all(): Compilation failed: invalid range in character class at offset 119 in
/home/chinaexp/public_html/wp-content/plugins/membership/membershipincludes/classes/membershippublic.php
on line
848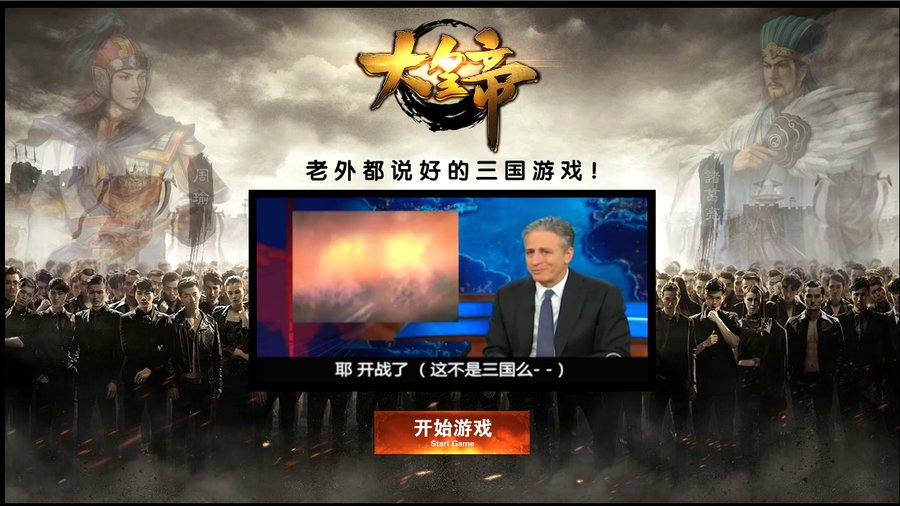 "The Daily Show" host Jon Stewart has become an unexpected pitch man for a Chinese video game. Does Comedy Central know about this?
The promotional page for "Great Emperors," an online strategy game produced by Shanghai-based Youzu.com, carries the tagline "Great Emperors: the Three Kingdoms Game Foreigners Like to Play!"
Underneath that slogan is a video of Stewart from The Daily Show, in which he states, in English:
"Russian forces storming Ukrainian bases – that is blatant naked aggression, or at the very least, disturbing shirtless aggression. But with this aggression it looks like Putin's gone 'heil Titler.'"
However, the Chinese subtitles tell a different story.
"Recently, Asians invented an online strategy game to improve the army's performance in battles. Sounds pretty awesome (diao), huh? Let's take a look. Wow, cool! Let's fight! We are back to the Three Kingdoms! [220-280 AD] Well, I have to admit the game is pretty good if you are as smart as Zhuge Liang [one of the novel Three Kingdoms' main characters]!"
Diao is actually a slang term that refers to male genitalia, so apparently Jon Stewart's Chinese alter ego is pretty excited about the game. Romance of the Three Kingdoms, attributed to writer Luo Guanzhong, who lived in the late Yuan Dynasty (1271-1368 AD) or early Ming Dynasty (1368-1644 AD), which has been the basis for numerous strategy games, given its mix of martial and romantic themes.
Photo: Youzu.com

Visit the original source and full text: the Beijinger Blog