Happy Fat Tuesday, everyone. I hope you've got plans for pancakes today – or better yet, have already scarfed some down. Whether you're observing Lent or not, making an excuse for carbs and sweet toppings is never a bad thing. A handful of Mardi Gras events around town are going down, mostly of the NOLA-bent. Check out Cu Ju, Nola, Cafe de la Poste tonight, and on Friday, 4corners, for spreads of Cajun fare and hedonistic activities (well, Sazaracs, body painting and ... a quiz?).
If you're looking to spend the next 40 days a little healthier after today's excess, look to Obentos' new set of daily specials which include Meatless Mondays (ten percent off vegetarian bento boxes), Maki Thursday (20 percent off all maki rolls) and a daily weekday special from 3-5pm where all bento boxes are 15 percent off. Click here for the full list of deals.
La Pizza has a new location in Sanlitun's 3.3 Mall a few floors up from the original location on 4/F. It's a departure from the original in its "Italian buffet" concept. We'll let you know what that means once we go over to take a look.
Nali Patio's Moka Bros is two weeks into their new breakfast menu (a full report on that shortly), and early morning options seem to keep springing up, with the latest coming to Frost. The newly renovated space will start serving a breakfast menu from 7am weekdays as early as next week, says Chef Jeff Powell.
Located near Andingmen, Wudaoying Hutong continues to evolve with a small, new space called Soup Kitchen next to Chi Restaurant and a new coffee shop called Barista Coffee.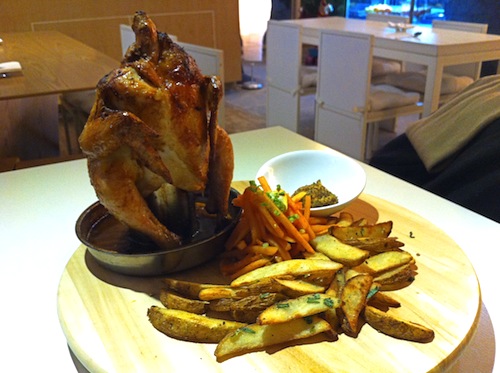 In Sanlitun Soho, Chef and owner Andrew Ahn has done well with his new concept, One Pot. The place was packed when I dropped by there this past Saturday night. But the opening of One Pot meant the closure of Ssam, whose departure was sad to see. Luckily, this original Ahn project has only moved house and will be reopening in the basement of Taikoo Li South. Ahn expects Ssam to be opening the doors there sometime mid-month.
Photos: Cat Nelson
More stories by this author here.
Email: [email protected]
Twitter: @haimei_baole
Instagram: @haimei_baole
Weibo: @cat_nelson

Visit the original source and full text: the Beijinger Blog