Warning
: preg_match_all(): Compilation failed: invalid range in character class at offset 119 in
/home/chinaexp/public_html/wp-content/plugins/membership/membershipincludes/classes/membershippublic.php
on line
848
Kro's Nest, the homegrown pizza chain with Haidian roots, just opened their sixth location in the Winterless Center on Guanghua Lu in the CBD, and  plans to accelerate its expansion to 50 locations nationwide within three years.
From its humble origins at the west gate of Beida in 2005, Kro's Nest has grown to a six-outlet mini-empire, with a seventh due to open in Chaoyangmen's U-Town Mall later this year. Two others are under development in Shijiazhuang and Taiyuan.
Founded by Kro Bauer, who came to China to study at age 17, the chain is known for its giant American-style pizzas and stylish design at its locations across Beijing. And if all goes according to plan, they'll have 50 stores across China in three years and 100 within five.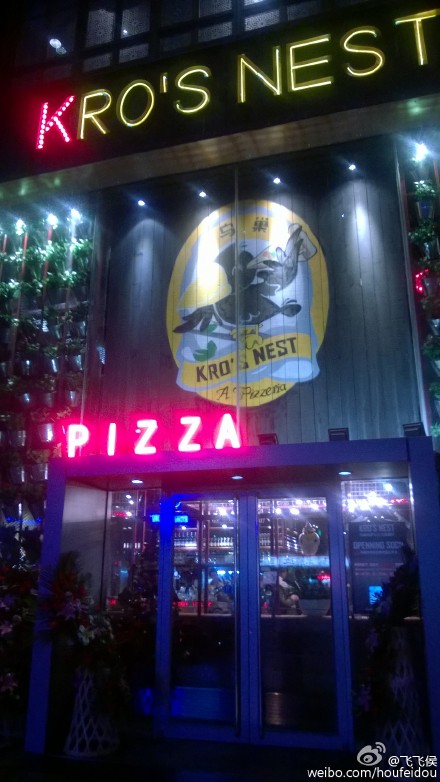 It's newest location opened in late December in the first floor of the Winterless Center (1A Xidawang Lu, Chaoyang District 西大望路甲1号温特莱中心A座1楼), across from Shinkong Mall. They're open 11am to midnight and you can reach them at 6538 8900.
Meanwhile, like all good business models in China, Kro's has found itself with a shanzhai copycat – this one in Zhengzhou, China which calls itself Tiger Pizza (with the rather cheeky catchphrase "This is my food").
It's menu has many items identical to Kro's and the spray-painted murals on Tiger's interior were obviously inspired by Kro's. 
To be fair, Tiger seems to be an equal opportunity rip-off artist, as the boys from Gung Ho! can attest ... one version of Tiger's logo is a lame take on the Gung Ho! logo, and take one look at their delivery boys from the streets of Zhengzhou and you'll see what we mean:
Who needs new ideas when you can just steal other's tried and tested innovations?
Photos: Weibo

Visit the original source and full text: the Beijinger Blog