Warning
: preg_match_all(): Compilation failed: invalid range in character class at offset 119 in
/home/chinaexp/public_html/wp-content/plugins/membership/membershipincludes/classes/membershippublic.php
on line
848
Former NBA and current CBA basketball star Stephon Marbury became the first foreigner named as one of Beijing's Top Ten "Model Citizens" when it was announced Tuesday.
The award, in its fourth year, has been issued by the Beijing city government annually to ten Beijing citizens who have made a special contribution to the city or positively influenced the public sense of morality.
Marbury is the first international recipient in the the awards' four-year history and the sole athlete on the 2014 list.
On the official website for the awards, Marbury's qualification was based not on his basketball prowess but his commitment to community and charity work. The site specifically highlights Marbury's visits to a girl with leukemia named Yuanyuan and donations to rural schools in Yunnan Province.
The award winners were selected from a list of 60 people who received the "Role Model of the Month" award during 2014, and the final ten were selected by an online public vote in November. 
This is the second time Marbury has been recognized by receiving an exceptional honor by the city of Beijing – he was named an Honorary Citizen of Beijing last April after leading the Beijing Ducks to their second CBA championship in three years.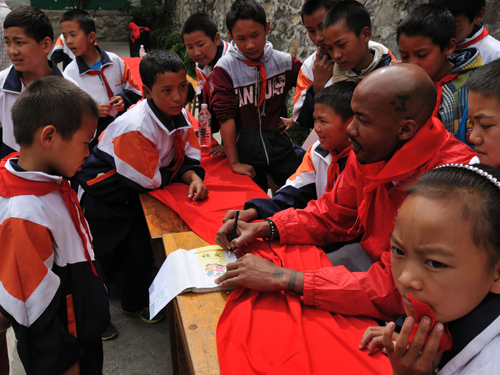 Marbury is not the first or only foreigner to play in the CBA, but he's won a place in Beijingers' hearts not only because of leading the Beijing Ducks to success, but because he's shown genuine commitment to the local community and participated in many charity events.
He was one of several foreign faces to appear in a recent Beijing tourism promotion video that was shown last month on television stations in the New York/New Jersey area, saying, "Coming to Beijing gave me an opportunity to explore something new in my life ... I fit right here in Beijing."
In 2012 Marbury auctioned a collection of his personal belongings, including a 2003 NBA All Star Game jersey signed by all stars of the 2003 class, raising RMB 366,000 to build rural schools in China.
Last month Marbury was featured in the news volunteering to clean up flyers in the Beijing Subway.
In its tribute to Marbury, the city said, "Marbury needs and loves the city, and the city needs and loves him. Like the ordinary citizens of Beijing, the 'Beijinger' Marbury is busy with his job and works hard for the city's glory."
"It is important to give back," Marbury was quoted as saying. "Not many people cared about me when I was a child from a poor family, and this experience makes me understand how important it is to give back."
"I'm deeply humbled by the honor and my family and I are truly blessed to receive the love that we've been shown by the city of Beijing," Marbury said on his official Weibo account in reaction to being named to the list.
In addition to Marbury, other recipients of this year's Model Citizen award are:
Zhang Jiaxin: This Ph.D. candidate at Beijing University of Posts and Telecommunications started an NGO called "Light of Dawn" which helped more than 100,000 seniors learn how to use a computer.
Jin Han: This actor at Beijing People's Art Theatre was also a Good Samaritan who saved a young mother and her girl from a group of robbers. He was stabbed eight times during the fight but fortunately was not critically injured.
Han Bing: This kindhearted taxi driver who carries a rare RH negative blood type has donated blood 11 times for a leukemic girl who shares the same but rare blood type. 
Chen Minhua:  As one of the best surgeons at Beijing Cancer Hospital, Mrs. Chen refused to implant an artificial cardiac pacemaker would have affected her permance as a surgeon. As long as her illness can be controlled by medicine, she has opted to save more lives at the detriment of her own wellbeing.  
Jin Jiugao: This retired engineer invented a new water-saving toilet that only uses one fifth of the water of a regular toilet in a single flush.
Yan Zhiguo: This retired government official has been taking care of his disabled wife for more than 38 years, who was severely injured during the Tangshan Earthquake and suffered paralysis from the mid-chest down since then.
Zheng Danna: An elementary school teacher who writes in a notebook to communicate with her students about their concerns. In her 16 years as a teacher she has written more than four million words, and for the past six years, she has been voluntarily holding teacher-parent meetings every Friday night.
Zhang Queming: A bus attendant who is known as "The Living Map," having memorized all the bus lines and the layout of the city.
Liao Lichun: An entrepreneur and a philanthropist who has worked on environmental conservation by planting trees in Hebei and Inner Mongolia.
Images: Beijing Daily, Capital Spiritual Civilization Construction Committee Office

Visit the original source and full text: the Beijinger Blog