Warning
: preg_match_all(): Compilation failed: invalid range in character class at offset 119 in
/home/chinaexp/public_html/wp-content/plugins/membership/membershipincludes/classes/membershippublic.php
on line
848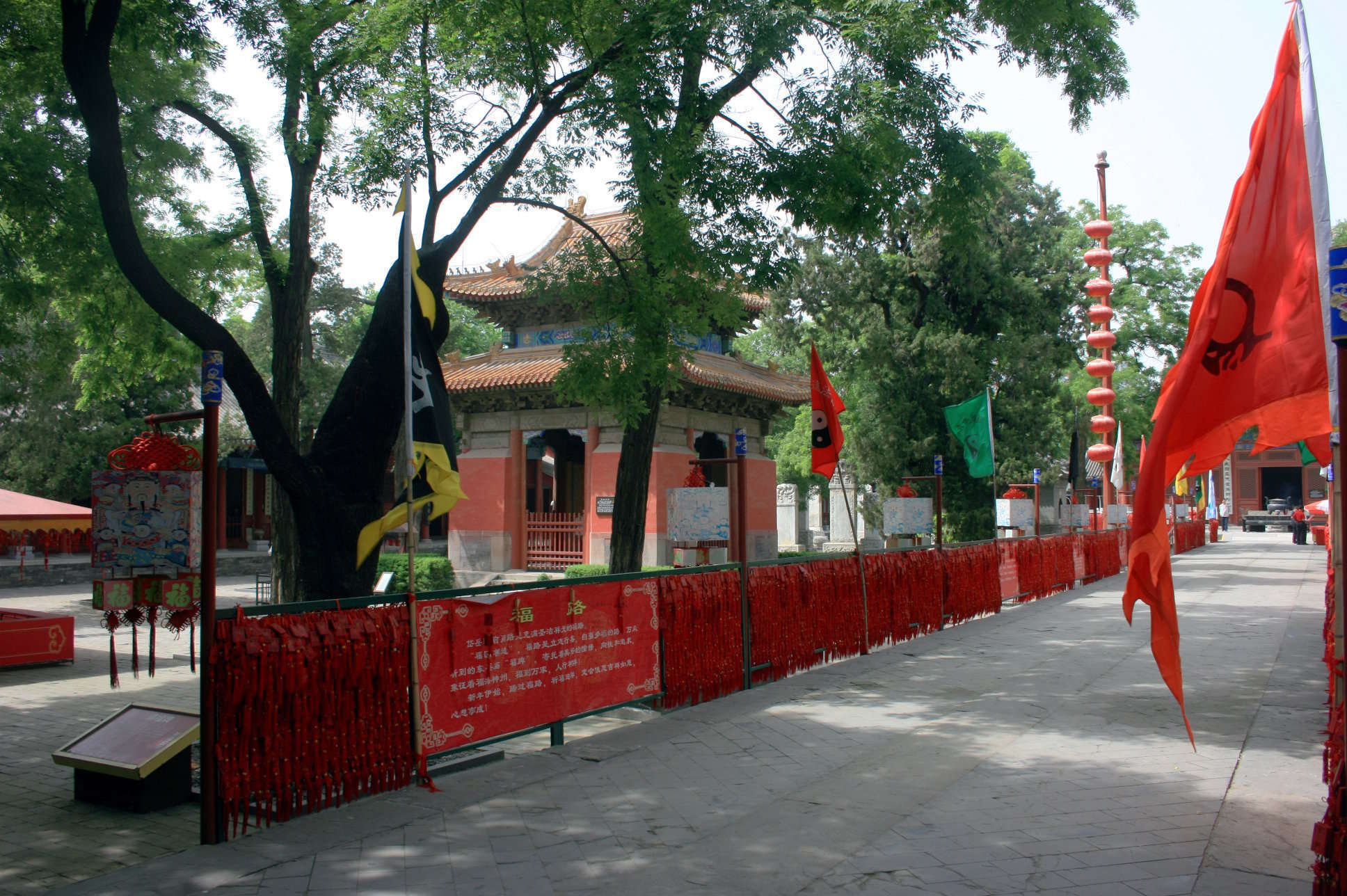 Visiting the Forbidden City and the Great Wall are boxes that get ticked early in a Beijinger's life or stay. The Temple of Heaven is an easy subway ride. Even the Summer Palace can be reached via public transportation. But it's the sites that are somewhat off-beat, a bit farther afield, second and third-tier attractions that are put off, until 15 years later, one thinks, "I've been in Beijing a long time but have never visited X or Y."
The new year represents an opportunity to shake all of that off and see a side of Beijing previously undiscovered. Many of these are easy to access, and each is worth a visit to highlight some less-examined aspect of Beijing culture or history. In 2015, see more of Beijing than you've ever seen before.
Dongyue Temple
Few people seem to know of Dongyue Temple, literally "Beijing Eastern Peak Temple."  Located just a 15-minute walk south from Workers' Stadium, this Daoist temple is tucked among the high rises of downtown Beijing.
Upon entering, Dongyue seems like an ordinary Chinese temple. There's an entrance with a red gate and two large white stone tablets, and the inside opens up into a courtyard layout. However, walking further in, you will discover Dongyue is anything but ordinary.
Encircling the central two courtyards are 76 rooms or "departments" (very impressive for such a small temple) that each feature a set of statues from the Daoist supernatural world.
Outside each department is a sign that explains which gods are portrayed by the figures as well as a collection box for donations. As one would expect, the Department for Accumulating Wealth has significantly more donations stuffed into its boxes than the Department for Rain.
Side note: It may be a bit early, but the Chinese New Year temple fair at Dongyue is incredible. The courtyards are completely transformed to host traditional games and performances, as well as an entire section dedicated to local treats.

Daily 8.30am-4.30pm Admission: RMB 10
141 Chaowai Dajie, Chaoyang District, Beijing (6551 0151)
北京市朝阳区朝阳门外大街141号 
Lugouqiao (Marco Polo Bridge)
The event known in the West as the Marco Polo Bridge Incident and in Chinese as Qi-Qi or Lugou Qiao Shijian. It was a turning point in 20th century world history and it took place on the periphery of old Beijing.

Apparently the incident, which was instigated by the imperialist Japanese government of the time, began as a minor skirmish between Japanese and Chinese soldiers on the night of July 7, 1937 at a railway bridge junction just north of the more famous overpass. An exchange of gunfire turned into a full-fledged assault on the nearby garrison town of Wanping.
China stiffened its resistance to Japan after that firefight on the banks of the Yongding River, resulting in eight full years of the Anti-Japanese War. The bitter wounds of that tragic era still have not completely healed.
Originally called the Guanli Qiao or Bridge of Vast Benefit, it was built during the Jin dynasty. Positioned between Mongol and Southern Song territories in north China, the aptly named bridge served both commercial and strategic purposes. Work on the bridge began during the reign of Emperor Shizong (1161-1189 AD) and was completed in the early part of the reign of Mingchang (1190-1208 AD) when the dynasty was at the apex of its power. It was a vital transportation conduit enabling the Jin to be middlemen controlling regional trade links, as well as being a key jumping-off point for military campaigns in all four compass directions.
Adorned with marble lions and ornate balustrades, the bridge was designed to impress travelers, reflecting its status as a final major crossing on approach into the capital city of Zhongdu. It certainly had that effect on a certain Venetian trader who wrote about the bridge and perhaps used it around 1276, less than a century after its completion.
There are plenty of reasons to speculate about whether or not Marco Polo ever made it to China – including his failure to mention chopsticks or the Great Wall. His use of Persian place name terms for the Yuan capital, its environs and inaccurate description of Lugou Qiao also raise doubts, but at least he can't be accused of naming the bridge after himself.
Open 8am-5pm winter, 8am-7pm summer. Admission: RMB 10
Lugouqiao, Yongding River, Fengtai District
Niujie Mosque
Located in the Xuanwu District of Beijing, Niujie Mosque (Ox Street Mosque) is the city's largest and most famous. It was first constructed in 996 CE  during the Liao Dynasty and has since gone through numerous restoration and conservation efforts. The mosque was rebuilt and expanded after it was destroyed by Genghis Khan and his armies, and today the mosque is over 6000 sq meters with over 42 rooms and a Prayer Halls that can fit thousands of worshipers. The Niujie Mosque was built pointing towards Mecca, the Muslim holy land, and boasts a mix of both Chinese and Arabic architecture. The mosque's structure is simple and compact and was constructed based on the traditional Chinese wooden palace design. However, the decorations are distinctly Islamic. There are no images or statues depicting humans or animals as is customary to Islamic beliefs, and the still intact Watching Moon Tower was used by imams to determine fasting times for holidays like Ramadan. Niujie Mosque is also home to many artifacts that are very important to Islam. Several ancient Islamic texts, stone tablets, and porcelain relics that came to Beijing via the ancient Silk Road are housed in this mosque. Outside of the prayer hall, there is a garden where the son of the founding Imam is buried, along with a few other sheikhs. Their gravestones are still intact and the epigraphs visible.
Conservative dress is also required in all areas of Niujie and certain areas of Niujie Mosque are off limits to tourists and non-believers. These areas include Watching Moon Tower and the main Prayer Hall. Niujie's worship services have been known to draw hundreds of people each day and the Muslim community surrounding the mosque remains strong. Local grocery stores carry halal meats and bilingual signs. Visiting the Niujie Mosque is a beautiful opportunity to see the influence of Islam in China's culture and history and see the ancient Silk Road's endeavors brought to life. RMB 2 for Chinese citizens, RMB 10 for foreigners. Daily 8am to 6pm.
18 Niu Jie, Xuanwu District (6353 2564) 宣武区牛街18号 Bus Route: Take bus no. 10, 48, 213, 626 or 717 and get off at Niujie or Niujie Mosque Station. Take bus no. 6, 57, 201, 613 or 687 and get off at Niujie Crossing East Station. Take bus no. 5, 38, 57, 109, 201 or 381 and get off at Niujie Crossing West Station.
Parts of the preceding article were previously published on theBeijinger.com, and contributed by Leah Sprague, Ed Lanfranco, and Sarah Isabel Lavers, respectively.
Photo: Wikimedia

Visit the original source and full text: the Beijinger Blog