Warning
: preg_match_all(): Compilation failed: invalid range in character class at offset 119 in
/home/chinaexp/public_html/wp-content/plugins/membership/membershipincludes/classes/membershippublic.php
on line
848
The (unofficial) First Amendment of The Employed: Work hard; play harder. As soon as that last second ticks out of the daily-grind hour most of us slip our party shoes on and head out the door for a good tipple or two. Whether it's a sit down and smash back a few cocktails with friends sort of night, or a 5am swagger out the club doors, we all enjoy a good vibe when we want to go out, and here are our picks for 2014's Best New Bars and Clubs who gave us what we wanted:
RELATED: 2014 Reader Bar and Club Awards Winners List


Capital Spirits
A beaming white-knight venue hailing to the white spirit, this bar gave us a reason to exclaim 'by jove, that's good baijiu!' Come here to educate your palate about the four distinct flavors of baijiu with one of their intro flights, or sip back a few Chinese infused twists on classic cocktails. We recommend the Anaconda for those who don't want none – memories that is.


Bottle, Boot & Cigar (BBC)
Often packed tighter than a freshly rolled Cuban cigar, this tiny bar on Xingfucun boasts a day-to-night transformation where by day it's a classy bottle and bar tools shop, but when dusk falls turns into a meticulous cocktail bar where every drink is carefully assessed and served in one of a multitude of different vintage glassware's.
RELATED: Kipp's Picks: Best Beijing Gigs of 2014


DDC (Dusk Dawn Club)
It's difficult to encapsulate Beijing into a venue without going tacky, or just downright awful, but Dusk Dawn Club managed to fuse the tranquil Zen hutong courtyard energies with a rambunctious industrial space where party animals can thrash out to one of their many hosted live music gigs.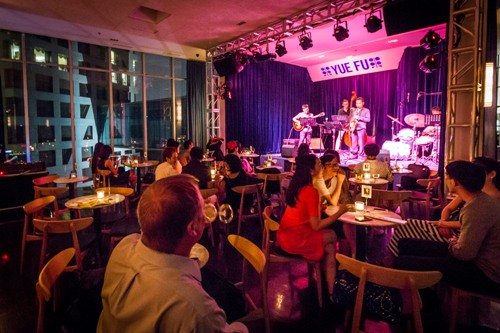 Yue Fu Jazz Club & Tasting Room
Acoustics are the number one priority with everything from 32-track digital recording capabilities, a vintage Gretsch four-piece kit, and a svelte Baby Grand making their presence known. Intimate seating allows for clients who wish to have a little chit-chat the inclinations to do so without distracting the die-hard jazz fans who can appreciate the subtle nuances up close.


5f
With a handful of Top 100 DJ's having graced their decks already, 5f is already making its name known as 'the' party house. Condense the glitzy LED screen found nearby at The Place, throw in more than a few lasers, mirrors, and enough bass to give you heart palpitations, and you've got yourself a pretty decent nightclub we think. 

See our full range of 2014 Year in Review blogs here and keep checking back as we round up the year.
More stories from this author here.
Email: [email protected]
Instagram: @wander_in
Wechat: erinstrong
Photos: Kipp Whittaker, Ken, Mitchell Pe Masilun, livebeijingmusic.com

Visit the original source and full text: the Beijinger Blog