Warning
: preg_match_all(): Compilation failed: invalid range in character class at offset 119 in
/home/chinaexp/public_html/wp-content/plugins/membership/membershipincludes/classes/membershippublic.php
on line
848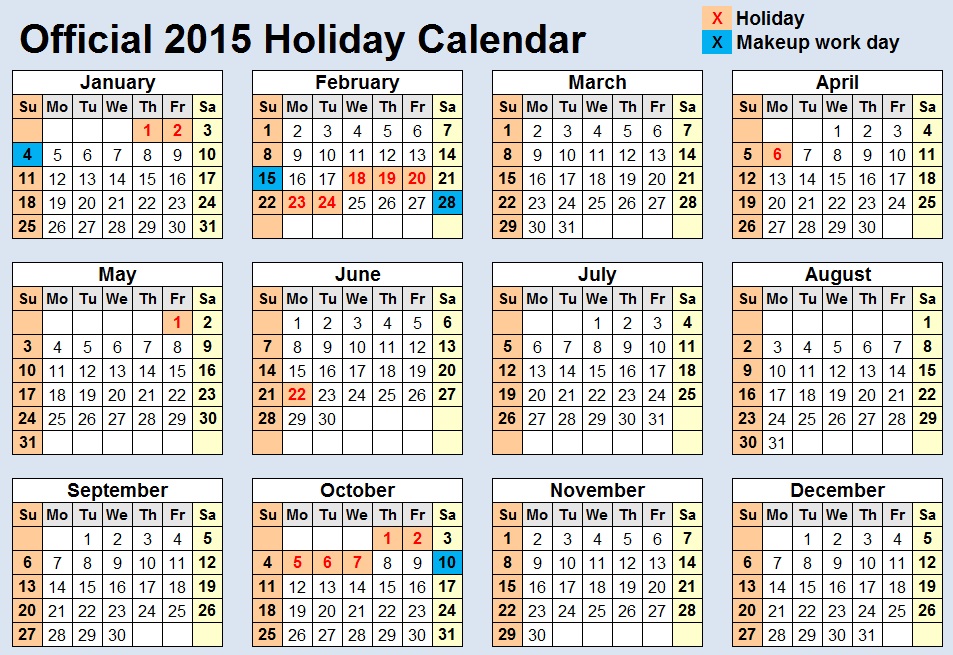 Slackers and Hedonists Rejoice! The Ministry of Controlling Your Life and Letting You Know Things at the Last Minute has released the official holiday schedule for 2015, and it contains only one horrendous six-day work week.
The dingy meeting room in which a panel of elderly bureaucrats who haven't worked a regular job for years set forth next year's calendar today, and they saw fit to preserve most of our two-day weekends and even toss in a few three-day weekends as well. 
This is not as simple a task as one might think: China keeps fiddling with its holiday schedule in a century-long effort to cram constantly fluctuating lunar holidays into the staid framework of the Gregorian calendar. The schedule has been revised twice since 2007, and more revisions are likely due in the future.
China seems to have taken a page from Western countries in giving the populace a Monday off when a holiday falls on a weekend -- that's happening twice this year, and when you add the May Day holiday we are looking at three 3-day weekends this year. 
However there is no extra day off for Mid-Autumn Festival, which falls on Sunday, Sept 27, and just four days short of the start of the Oct 1 holiday. I guess the Powers that Be thought that if they gave Monday the 28th off, then the whole damn population would just take that Tuesday and Wednesday off and have themselves a nice 12-day break, which would be the end of modern civilization as we know it.
Be it the luck of the lunar draw or by design, we're looking at a great year for normalcy and regular work weeks, and only once will be forced to work six days in a row -- and we'll be getting that one out of the way in January.
Consult the calendar above or read away in text below:
New Year: Thursday Jan 1 through Saturday Jan 3. Makeup work day on Sunday Jan 4.
Chinese New Year: Wednesday Feb 18 through Tuesday Feb 24. Makeup work days on Sunday Feb 15 and Saturday Feb 28.
Tomb Sweeping Festival: Sunday Apr 5. Since it falls on a weekend, Monday Apr 6 is a holiday.
May Day Holiday: Friday May 1.
Dragon Boat Festival: Saturday June 20. Since it falls on a weekend, Monday Jun 22 is a holiday.
Moon Festival: Sunday Sept 27. No compensation day off.
National Day: Thursday Oct 1 through Wednesday Oct 7. Makeup work day on Saturday Oct 10.
 
Graphic: the Beijinger

Visit the original source and full text: the Beijinger Blog