Warning
: preg_match_all(): Compilation failed: invalid range in character class at offset 119 in
/home/chinaexp/public_html/wp-content/plugins/membership/membershipincludes/classes/membershippublic.php
on line
848
As icy winds blast us from places even farther north, liquor can be essential to survival in the winter months. Luckily for us all, our local mixologists are doing their part to combat these frigid temperatures with delicious concoctions. Try of some of our favorite seasonal drinks to keep you buzzing from place to place, maintaining your social life while everything else around you is frozen solid. Enough of them and you'll probably fool yourself into going out sans jacket. Or trousers.
RELATED: A Feast for the Senses: Where to Buy Christmas Edibles
HOT TEA TODDY – Miles (RMB 55) (pictured above)
Be prepared for a soothing feeling from this fortified cup of tea. It's a little like your grandmother's sore throat remedy, with an added splash of spirit to take the edge off. There's a healthy mix of lemon and honey that masks the strong taste of bourbon and confuses you into believing that this might be benefiting you in some manner.

Ingredients
60ml steeped Earl Grey tea
60ml Old Fitzgerald bourbon
20ml lemon juice
10ml honey
Garnish with a cinnamon stick.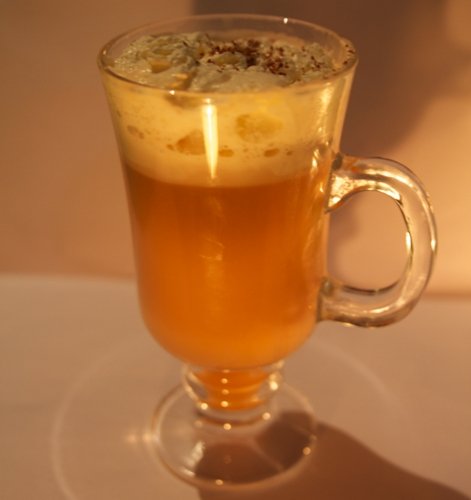 COQUITO – Más (RMB 60)
The holiday drink of choice in Puerto Rico, and enjoyed by abuelitas and papitos alike in the relatively chillier months of the Caribbean. This little guy is as rich as they come. It's comparable to one of those dessert coffees, loaded with whipped cream and filled with enough high proof rum to get you singing Mambo #5 within minutes of consumption.

Ingredients
30ml Gosling's High Pro of Dark Rum
60ml cinnamon syrup
5-6 dashes homemade tiki bitters
30ml pure coconut cream
Top with hot water and homemade whipped cream and nutmeg
 
HOT BUTTERED RUM – Apothecary (RMB 80)
A dessert cocktail in the truest sense, this is a delicious combination of sweet and spice-induced winter intoxication. Lots of people can't handle the heavy buttered flavor, but those who are into this classic drink are convinced it tastes like Christmas. We've never found one of these babies with so much complexity.
Ingredients
45ml Gosling's Black Seal Rum
House-made batter made with brown sugar, allspice, and butter
Topped with nutmeg and garnished with a cinnamon stick
 
HOT TROPICS – Cu Ju (RMB 35)
This winterized tiki cocktail is hot and tangy with a nice ginger bite. The complicated mixture of juice, ginger, honey and spices is heated up with the goji berries in a brass kettle and served piping hot, ready to numb all of your winter woes. We'll be back for more of this.
Ingredients
45ml of gold Cuban rum
A heated mix of pineapple juice, crushed ginger, honey, cinnamon, nutmeg, and goji berries.
 
MULLED SLOGGER LAGER – Home Plate Bar-B-Que (RMB 40)
Nothing to get terribly sloppy on here, but incredibly efficient for returning your body to room temperature. It's nice how the mijiu and goji complement the slightly tangy heated lager and sweetness of the maple syrup. This concoction would be especially nice for brunch to warm up those wind-battered cheeks over a high stack of pancakes.
Ingredients
270ml Qingdao
10ml mijiu
Orange rinds
Goji berries
Topped with a dash of maple syrup
More stories by this author here.
Email: [email protected] 
Wechat: kippwhittaker
Weibo: @KippWhittaker 
Instagram: @KIDDWHIZ
 
Photos: Kipp Whittaker

Visit the original source and full text: the Beijinger Blog