Warning
: preg_match_all(): Compilation failed: invalid range in character class at offset 119 in
/home/chinaexp/public_html/wp-content/plugins/membership/membershipincludes/classes/membershippublic.php
on line
848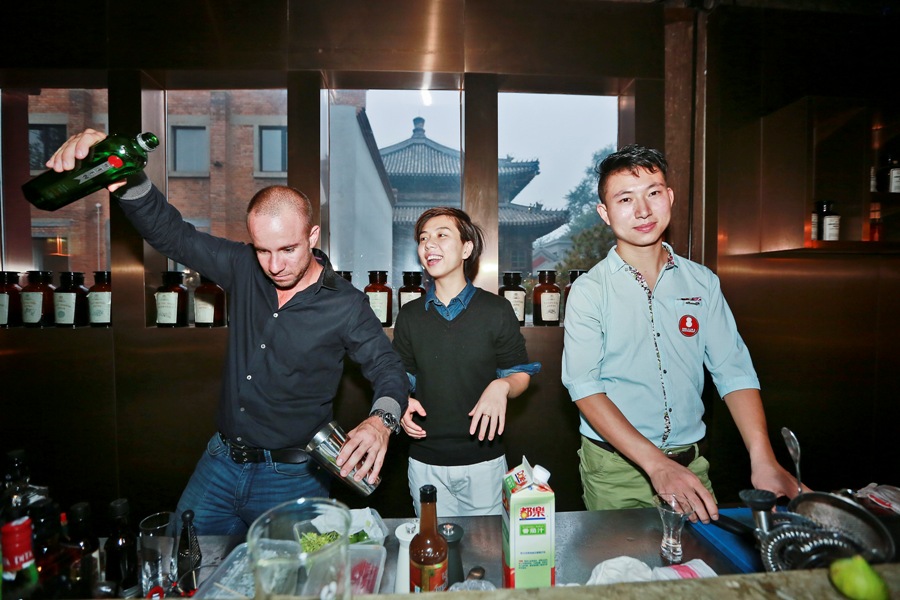 Three bar masters. Three "secret" ingredients. One judge. Would Beijing's cocksure mixologists fumble when faced with an unusual condiment or unfamiliar fruit? Or can they concoct a drink to impress one tough taster? In the spirit of Iron Chef, we put our bartenders to the test by announcing a secret ingredient, giving them ten minutes to conceive of and create a mix, and finding out just how creative a cocktail can get. Who shall be named this month's Iron Bartender ...
THE CONTESTANTS
Bill Isler, Capital Spirits
Although the media has been storming his newlyopened baijiu bar, Bill insists that his latest venture is just a hobby. His full-time business is importing cattle, which, incidentally, is how he learned the ins and outs of baijiu – drinking at business meetings. Now, the tables have turned, and baijiu companies are looking to him for help to introduce their drink to foreigners.
Yann Zhan, Miles
Yann started her bartending career in Shanghai before moving to Beijing, where she dabbled in homebrewing craft beer for The Vineyard, wine, and now, spirits. She likes working with bourbon and bitters, and will whip you up a custom drink at Miles and even name it after you. Try Ken's Cinnamint for starters, with fernet, spiced rum and chocolate bitters.
Peter Pei, 8MM
You may have seen Peter at Xiu or 4corners before he began his stint at the new 8MM club, but bartending wasn't the beginning. As a chef at a local Chinese restaurant, he studied knife techniques, meanwhile tasting various liquors available (not a good combination, we guess). Look for his gorgeous garnishes, when he's not making his simple favorite: the Old Fashioned.
THE JUDGE
Charlie Li, Temple Restaurant Beijing (TRB)
Just one glance at the sweeping wall lined with bottles of infused liqueur and bitters behind Temple Restaurant Beijing's bar and you understand just how serious a bar manager Charlie is about his ingredients. This month, look for cocktails that incorporate his pumpkin puree with bourbon and maple syrup, vodkainfused with persimmons, and five-spice syrup.
 
Round 1. Secret ingredient: soy sauce



Pickled vegetable juice, vodka, green and red Tabasco, Worcestershire sauce, herbal vodka, soy sauce, salt and pepper, tomato juice.

Grey Goose vodka, cointreau, Benedictine, cinnamon stick, nutmeg powder, lemon juice, salt, soy sauce

Tanqueray No. 10 gin, lime juice, Luxardo, tonic water, soy sauce, Creole bitters, garnished with lemon and cumin
Verdict: Peter took first place for an odd, but delicious blend of soy sauce with licorice-flavored bitters. Charlie suggested he could have spent longer grounding the cumin for even more flavor.

Round 2. Secret ingredient: peanut butter



Bailey's with peanut butter, Grand Marnier, Armagnac, topped with orange bitters and cinnamon



Captain Morgan black rum, Kahlua, coconut milk, egg white, green tomato, peanut butter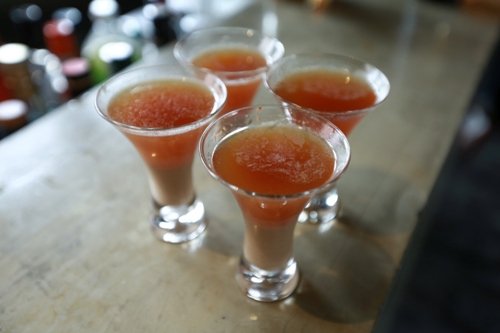 Bailey's, Jack Daniel's, Kahlua, peanut butter, rose petals
Verdict: It was a tough decision for Charlie, as all the cocktails were unique and well-balanced. He finally declared Bill the winner because his cocktail was the best value.

Round 3. Secret ingredient: fig

Fig, crème de cassis, Prosecco

Gin, passionfruit puree, fig, soda water, blueberries, elderflower syrup, and lemon juice

Vodka, Grand Marnier, apple juice, dragon fruit, fig
Verdict: Charlie knew which cocktail he liked best from first impressions – Yann's had a nice color and looked most tempting. Charlie was impressed by the presentations, but Yann's, overall, was most refreshing.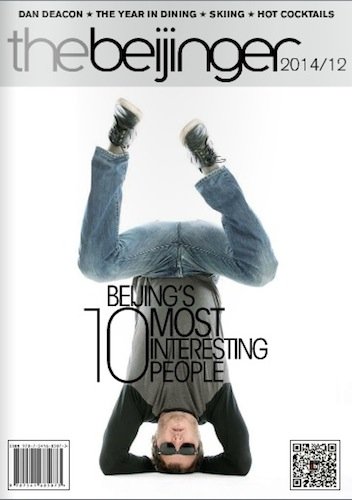 Photos: Ken

Visit the original source and full text: the Beijinger Blog