Warning
: preg_match_all(): Compilation failed: invalid range in character class at offset 119 in
/home/chinaexp/public_html/wp-content/plugins/membership/membershipincludes/classes/membershippublic.php
on line
848
Beijing will soon have yet another amusement park to add to the ranks of the existing Happy Valley in the southeast, the Shijingshan Amusement Park in the west, and Universal Studios set to open in 2019: The Eternity Passage Theme Park in Changping, smack dab on the way to the Great Wall and the Ming Tombs.
Rather than being a straight ripoff of a Disney park replete with almost-familiar faces like Nicky Mouse and Ronald Duck, this one's going for a distinctly local theme, with areas containing distinct Chinese elements (with a space-age twist) such as a Zheng He-themed Voyage of Discovery and even a nongmin section that allegedly capitalizes on Beijing's farming culture (by destroying what was once presumably farmland).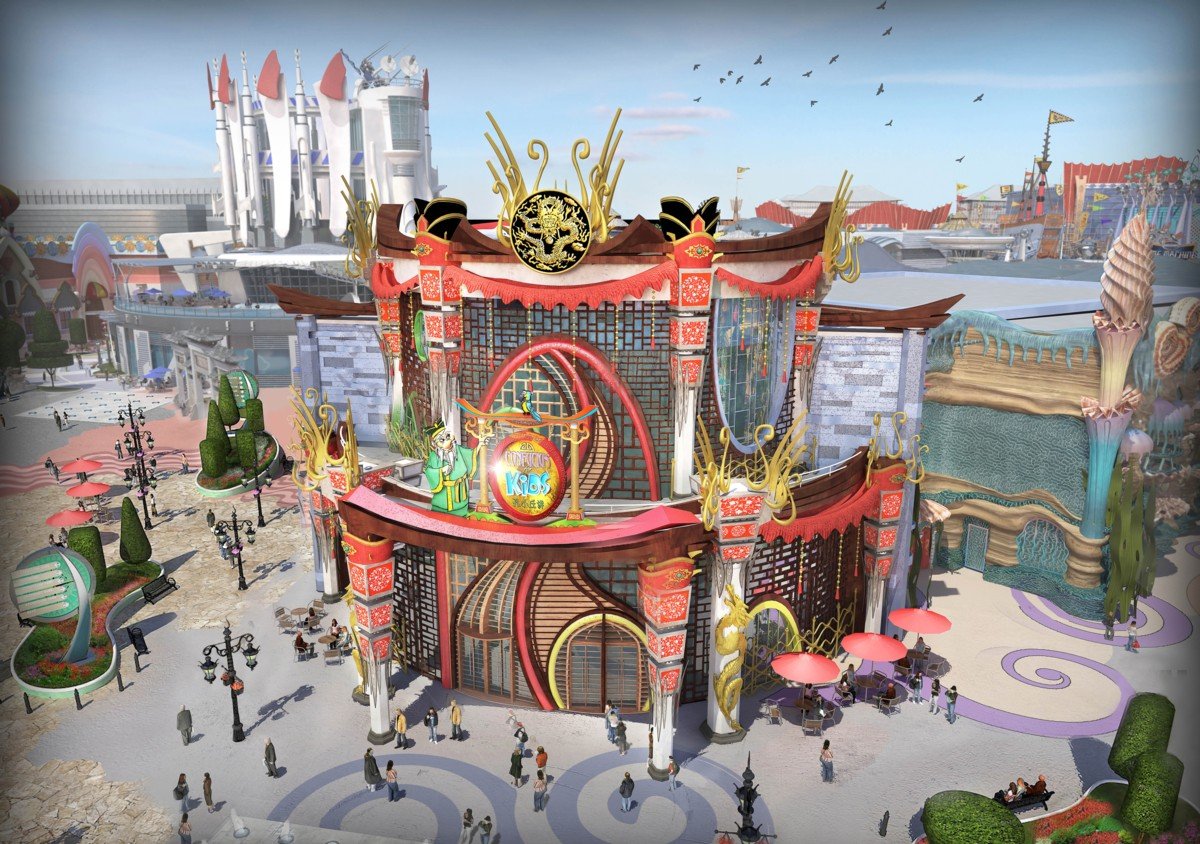 Given its location near Ming Tombs/Badaling, at the very least out-of-town tourists can look forward to being dumped at a fancy mall by their kickback-hungry drivers instead of some dumpy cloisonné factory.
According to blooloop.com, the park is already under construction in Changping and will open to the public next summer.
Designed by California-based IdeAttack, the park blends elements of time travel and Chinese/Beijing culture. The idea is to provide the visitors a cultural experience of the past, present and future of Beijing and China. Each attraction will be a combination of cultural experience and high-tech fantasy. Many attractions also draw their inspiration from traditional Chinese folktales and myths. Read: expect half the park to be closed at any given time due to repairs and the other half to be stuck in the eternity passage that is construction under dodgy deals.
Here are a few examples of rides that will delve deep into Chinese culture, according to blooloop.com:
Voyages of Discovery: Farewell, Pirates of the Caribbean: hello, Zheng He and the Indian Ocean! Voyages of Discovery will be a combination boat ride and theater show telling the story of famed Chinese navigator Zheng He's expedition to the Indian Ocean in the 15th century (Ming Dynasty). At a supposed 7-and-a-half-feet tall and castrated even before he hit puberty, this ride about Zheng He the fearless warmonger shouldn't disappoint, that's if all the gritty details are embraced.
Nüwa Mends the Heaven: This attraction will tell the Chinese creation story in which the Goddess Nüwa repaired the fallen pillars holding up the heavens and created human beings before her intestines spilled into a thousand spirits. Also a potential winner. Sure beats the Fuwa.
"Haunted Farm": The Haunted Farm ride will be a rollercoaster ride showing some of the farming traditions of this area of Beijing with a horror genre twist. We're picturing a milder version of the Texas Chainsaw Massacre set in a rural Chinese village. But then again, in some parts of China families did use to feed their sick babies to wild dogs so as to rid the household of evil spirits so there's that too.
If the theme park doesn't sound flashy enough by itself, it of course will be paired with yet another five-star hotel/shopping/high end living complex called Beijing Outlets World (Ao Lai Huan Le Cheng), replete with an outlet mall, a continental conference center and a luxurious resort. Covering 230,000sqm (56 acres), the complex aims to become one of the largest and fanciest shopping/entertainment/holiday complexes in China.
The whole shebang is located outside the Northwest Sixth Ring Road in Changping, otherwised known as the middle of nowhere ... though its not far away from the Nanshao station on the Changping Subway Line.
Images: blooloop.com

Visit the original source and full text: the Beijinger Blog