Warning
: preg_match_all(): Compilation failed: invalid range in character class at offset 119 in
/home/chinaexp/public_html/wp-content/plugins/membership/membershipincludes/classes/membershippublic.php
on line
848
With a pedigree as long and illustrious as Hatsune's, you'd think at some point they'd be inclined to rest on their laurels and just let the years roll past. Not so. Instead, the passionate team are pretty much always innovating, coming up with new events and dishes to keep things fresh.
I visited one lunchtime last week to try a smattering of their latest batch of new creations. First off, fans of Hatsune's signature rolls will want to explore the four new varieties they have on the menu: the White Russian Roll (gobo age, crab salad and avocado, topped with torched white tuna and black caviar), the Volcano Roll (avocado and tempura flakes deep fried and covered with ikura, tobiko and magma sauce – note this one is not for the spice-afraid), the Crustacean Sensation Roll (soft shell crab, cucumber, crab salad and tobiko) and the Dream Team Roll (RMB 89). The last, a combination of shrimp tempura and cucumber, topped with spicy salmon and sizable avocado wedges, is my personal favorite and I can see becoming a new menu stalwart.
Do think beyond the rolls however. My dining companions and I were pretty universally delighted with the Egg-splosion Salad, crisp leaves topped with salmon and tobiko roe and a very runny egg. Absolute heaven. 
The absolute standout dish, however, is The Onsen (RMB 90), a small dish of very lightly poached quail's egg in broth topped with squid sashimi, sea urchin, salmon roe and white radish. Pop the yolk, mix it all together and dig in. Yes, it's rich. Yes, the texture isn't for everyone. But dishes like this show why Hatsune has been on top of their game for so long.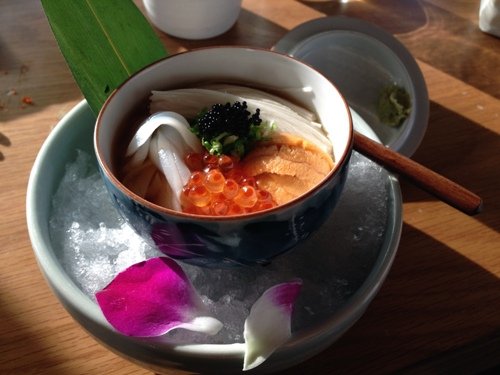 There's too many dishes to really describe, so instead, scroll through for some more pictures of our favorite dishes.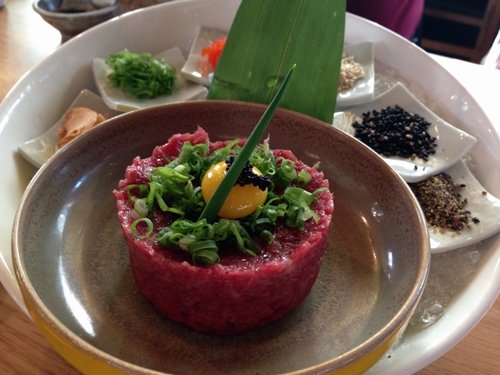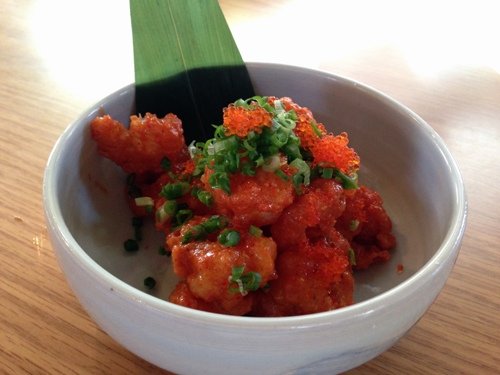 More stories by this author here.
Email: [email protected]
Instagram: @gongbaobeijing
Twitter: @gongbaobeijing
Weibo: @宫保北京
Photos: Robynne Tindall

Visit the original source and full text: the Beijinger Blog