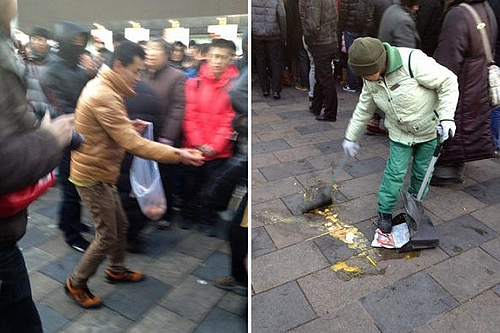 Here we go again? Reports of a stabbing in Sanlitun are bringing back bad memories of the summer of 2013, when personal safety became a concern following a series of violent incidents.
According to Beijing Times, a "black man" was stabbed around 4am on Tuesday, with initial reports coming from Sina Weibo user 小红鞋爱TATTO, who was out buying food in a lane west of Sanlitun Lu. He described the ground as "covered with blood," blood that was still visible the following day when a Beijing Times reporter visited the area. A nearby shopowner said it looked like his "intestines had fallen out." The man was treated at Beijing Military General Hospital, and his wounds are serious but not life-threatening. The perpetrators have not been identified and the matter is currently under investigaton by the Chaoyang District Public Security Bureau, the report said.
Ok, don't panic. Although last summer saw a stabbing incident outside Joy City Chaoyang that killed two people including an American woman, and was followed by other knife attacks and an explosion at Beijing Capital International Airport, it just means two things: be careful, use common sense, and don't suddenly think Beijing is absolutely unsafe. Sanlitun at night seems to be an area of concern, avoid walking through there late alone at night.
Other violent incidents from previous years include American Howard Thomas Mills, who was stabbed to death at Qianmen, on July 12, 2012; that incident continued a string of attacks directed at foreigners that included an assault on a Beijinger contributor. The early days of the 2008 Olympic Games were marred when Todd Bachman, father-in-law of the US men's volleyball coach, was stabbed to death at the Drum Tower on August 9, 2008. His wife, Barbara, survived the attack.
Keep your wits about you as you go out this weekend, and don't forget to carry your passport.
Thanks Beijing Cream for posting the first report on this.
Photo: the Beijinger

Visit the original source and full text: the Beijinger Blog