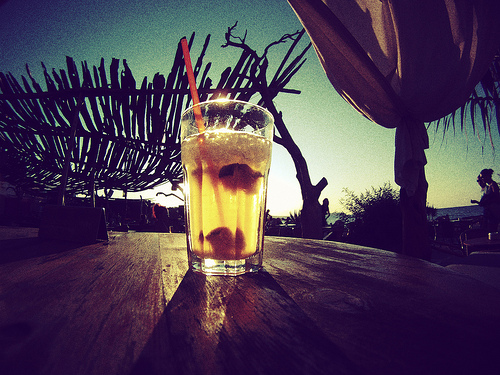 Last week I mentioned that 京A launched their new pre-prohibition-style brew, The Lucky 8 Lager. Now you can try that and the remainder of 京A's six beers on tap at The Big Smoke at their Flight Night which will take place every Monday starting Feb. 24. Keep an eye out for their beer launch collaboration with Re-up Dashilar and the JUE Festival next month.
Now on to the nitty-gritty stuff: Q Bar is closed for renovations until sometime in April, but when there's a closing, there's always an opening. Guomao's skyline has gained another rooftop bar with the opening of The View 3912, one that promises a panoramic view of Dawanglu, plus an extensive cocktail menu and Western fare. Better still, the kitchen is open until midnight.
Meanwhile, in Workers Stadium, Vics has sprouted a space upstairs for sports fans called V Sports Bar. They're due to serve the kind of comfort food that goes well with American football. I'm hoping that means I can eat a greasy basket of chicken wings before and after throwing back a few at ladies night. Or better yet, grilled cheese.
I should find out soon enough and will let you all know. Don't let me get your hopes up too fast just yet.
Sven Väth is doing his German club scene thing at Tango tonight. He's an old hand at it, so if you want a guaranteed good night of trance and techno, I suggest you head that way. Tickets are RMB 300 at the door.
I've heard good things about Ink's Factory parties, but you're going to want to check them out for yourself. Tonight, MRG, Juhstynn, Alessandro, and Max at Large are taking you back to the '90s house scene in Chicago, Detroit and New York City.
The floor will still be shaking tomorrow at Ink when DJs Tigersnake, Kiran Patel and Alessandro Vigo heat up the dance floor with house and Latin rhythms, accompanied by Latin dancers and special guests on percussion. It's all thanks to Carnival, a Brazilian celebration of excess before Lent. Buy-one-get-one-free mojitos till midnight.
Here are a few more events for the calendar. Remember, you can always refer to our Nightlife section for more stuff to do this week.
And if you want to check out The View:
The View 3912
3912-A Xiandai Soho, 88 Dawanglu, Chaoyang District (8589 2524)
北京市朝阳区建国路88号Soho现代城A座3912
Photo: Mikel Belza Guede on Flickr, 京A, Niall Kennedy on Flickr, and www.dreamguides.edreams.pt

Visit the original source and full text: the Beijinger Blog