Warning
: preg_match_all(): Compilation failed: invalid range in character class at offset 119 in
/home/chinaexp/public_html/wp-content/plugins/membership/membershipincludes/classes/membershippublic.php
on line
848
A 33-year-old woman was crushed to death last night on Line 5 of the Beijing Subway after being caught between the safety gate and the doors of the train as it left the station.
With odds and evens restrictions on the roads for the next week due to APEC, subway traffic has been heavy and is likely to continue to be over the next week. Last night's incident should serve as a reminder to everyone commuting in Beijing to be extra careful, avoid peak hours if possible, and watch out with the pushing and shoving and jostling that normally occurs.
According to media accounts and the official Weibo account of the Beijing Subway, the woman was attemting to board the train at the Huixinxijie Nankou Station last night shortly after 7pm during rush hour, but failed to get into the train itself, becoming trapped between the safety gate and the train. She was crushed and her body dropped to the tracks before the train stopped approximately 100 meters after leaving the station.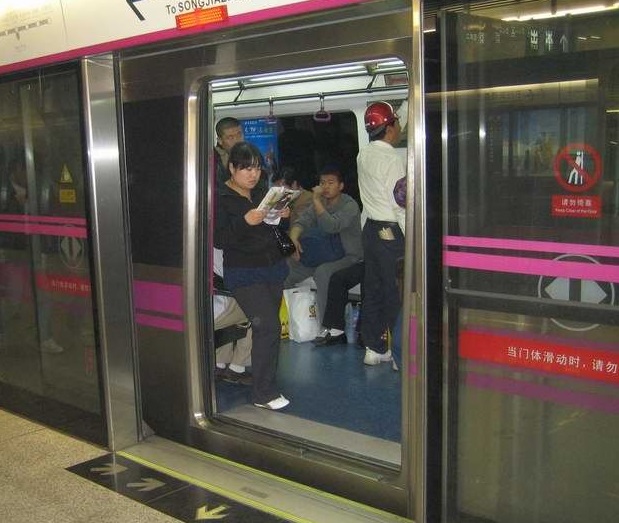 Commuters witnessing the woman becoming trapped behind the safety door attempted to open it to get her out, but to no avail.  Pandemonium occurred shortly afterward in the station, as witnesses said there was screaming and yelling and people began running for the emergency exits. No additional injuries were reported and northward service was restored shortly after emergency crews evacuated the woman from the station.
The safety gates are equipped with laser sensors that are supposed to automatically open the doors if there is something caught in between them, but were not triggered in this case.
The woman was sent to the nearby Sino-Japanese Friendship Hospital, where she was pronounced dead shorly afterward. Doctors report that although she had no visible exterior bodily injuries, she had suffered multiple broken bones and her chest cavity had been crushed.
Image: Wikipedia

Visit the original source and full text: the Beijinger Blog