Warning
: preg_match_all(): Compilation failed: invalid range in character class at offset 119 in
/home/chinaexp/public_html/wp-content/plugins/membership/membershipincludes/classes/membershippublic.php
on line
848
To get you in the mood for the ongoing voting in the 2014 Pizza Cup (Round 2 closes tomorrow night – vote here before the field is cut to 16!), we've sent our minions out to patrol the streets for pizza. Here's a selection of what they've found:
Sanlitun has no shortage of pizza joints: that was clear to Jay Liu, the manager of Luga's Little Italy, even back in 2006 when the number of competitors was fewer, yet no less significant.
"We would think: 'La Pizza is so good, and The Tree has been here forever and people have always loved it," says Liu, who was a waiter at Luga's at the time but now works as the location manager at Luga's Little Italy, the Italian wing of Luga's multi-ethnic food-and-drink mini-empire. "What can we do to make our pizza special?'"
Luga's first location in the Sanlitun bar street area in 2006 was a small outlet that served an odd combination of Mexican and Vietnamese dishes. Later they expanded to "Big Luga's" – Little Luga's was left as a Vietnamese restaurant, whereas the bigger of the two Luga's became a hybrid of two styles/cuisines: Luga's Villa, a Mexican bar and restaurant, and Luga's Little Italy, an Italian restaurant.
The opening of Big Luga's prompted the owners of Luga's to experiment: they decided to combine their reputation for multinational cuisine into one dish, the result being a "Mexican pizza" with blazing jalapeño peppers.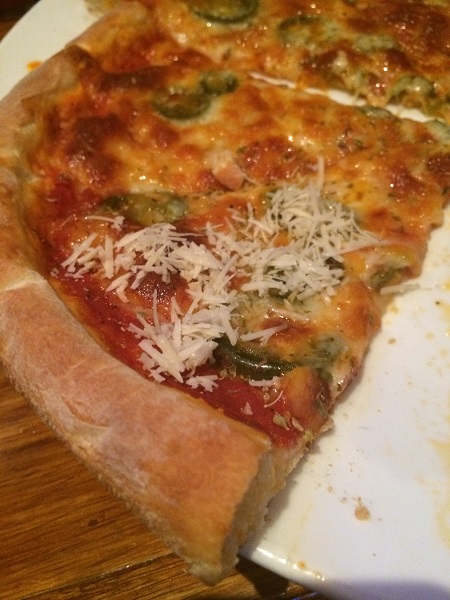 "We were hearing about other Beijing restaurants that were putting crazy things on their pizzas, so we thought 'Why not use our knowledge of Mexican food?" Liu says.
Luga's Mexican prowess comes from a chance relationship. "One of our owners was best friends with a woman that worked at the Mexican embassy. When she was homesick, she would cook her hometown food with him and teach him how to make it. Since then, she has been bringing people that visit the embassy to our restaurant," Liu says. "Now we're always bringing Mexican food to the embassy for businessmen or students that are visiting, and they'll say 'Ah! It's good,' and take some photos of us with the dishes." 
Liu admits that there's little overlap between Luga's Italian and Mexican offerings. "They're not really similar – the key ingredients are pretty different." And while the jalapeño may be the restaurant's only crossover menu item, Liu says the remaining pies are still informed by Luga's Mexican fare in one key regard:
"Our Hawaiian pizza is probably our most popular, because the fruit on it tastes so fresh. And a lot of customers really like our Salami pizza, because we get the salami from Schindler's. We learned while making Vietnamese and Mexican food that it was really important to have fresh ingredients, and that's just as important for our pizzas."
Luga's Villa / Luga's Little Italy
2/F, 7 Sanlitun Houjie (10m from northwest corner of 3.3 Shopping Center) Chaoyang District, 6416 2575
朝阳区三里屯后街7号2层(离3.3购物中心西北角10米)
Photos: Kyle Mullin

Visit the original source and full text: the Beijinger Blog