There's so much more to Mexican food than tacos and burritos, a fact that you'll become fully aware of while tucking into Pebbles Courtyard's inventive new dishes. The long-running Wudaoying restaurant's owner and chef, Ray Heng, returned earlier this month from studying at Kendall College Chicago, considered to be one of the top culinary schools in the world.
The year he spent training there, along with extracurricular tutelage from friend, mentor, and Frontera Grill founder Rick Bayless (arguably the Windy City's most famous chef), has helped Heng hone his skills. That means, in the short time since he's been back in Beijing, Heng has been able to develop a new menu of modern Mexican dishes that are not only a considerable upgrade of Pebbles' prior offerings, but also more creative and eloquent than novices might expect.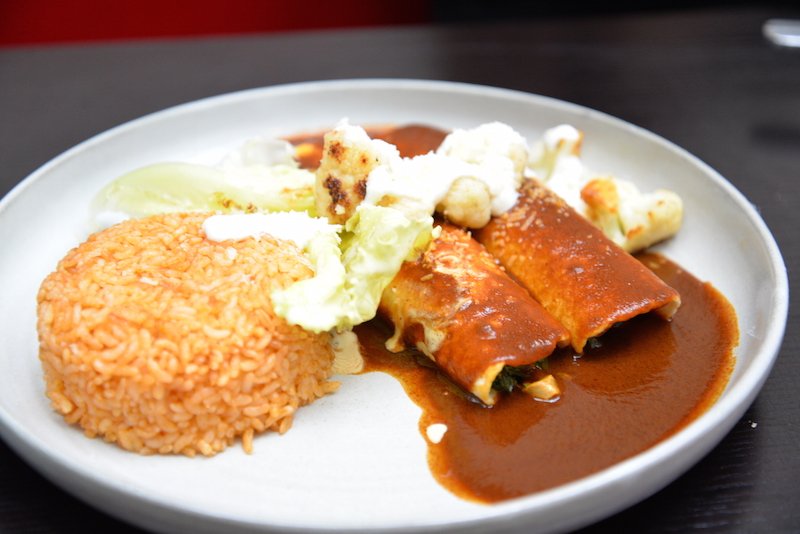 Among those seven newly available dishes, the vegetarian enchiladas (RMB 88) are a clear standout. The flour tortillas that serve as its foundation are familiar enough for anyone expecting Mexican fare. Yet innovative flourishes like its filling – consisting of a palate-enveloping mix of cream and goat cheeses, along with an invigorating veggie combination of chewy kale, nettles, and sautéed onion – make these enchiladas unlike others. The filling also features a guajillo sauce that, unlike many conventional chili sauces, won't burn your mouth but instead smolders comfortingly.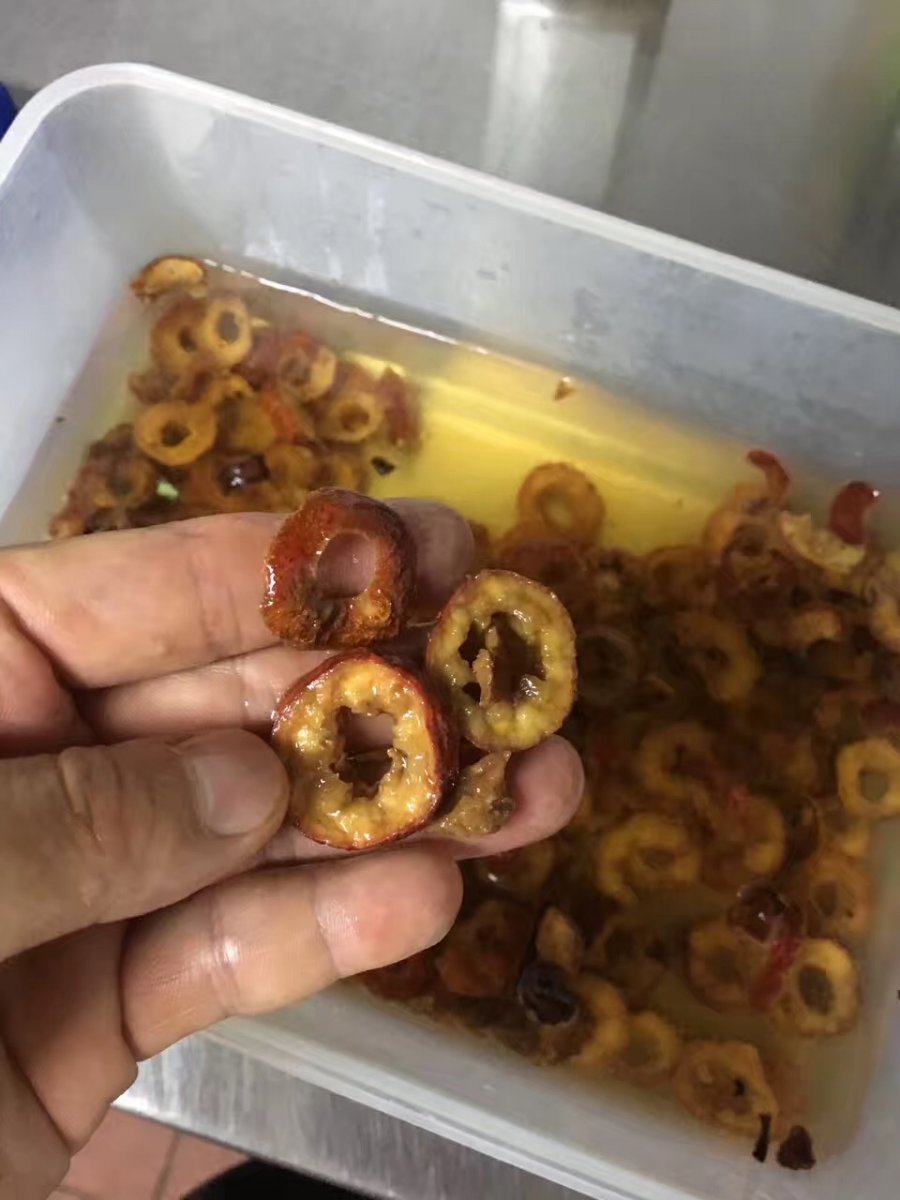 An even more unique sauce seals the deal, however: dried Chinese pasilla hawthorn, which is acidic enough to cut into the cheesiness of the filling and balances it all out.
While we were blown away by the tastebud-busting creativity of the enchiladas, another new meatless option also piqued our interest: the RMB 88 cauliflower steak. Consisting of grilled cauliflower seared to the point of becoming a firm patty, this meatless steak is doused in a garlic marinade, saliva-inducing sautéed bell peppers and onions, and served atop a jalapeño black bean sauce. A side of vibrant pico de gallo (also known as salsa fresca), crunchy chips, and filling butter rice aptly cap the proceedings off.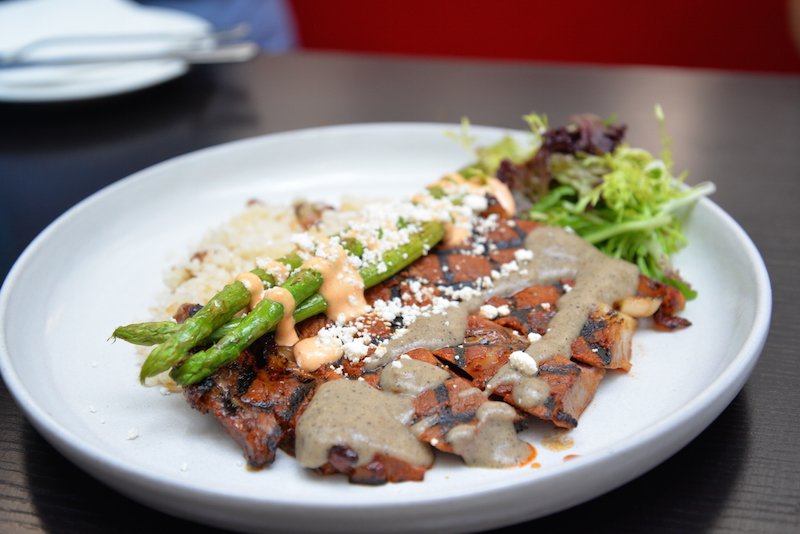 Impressive as those vegetarian options are, the meatier numbers certainly don't disappoint. Best of that bunch: the hearty carne asada steak (RMB 228), made up of a marinated USDA ribeye in red abodo (a mix of chili, paprika, salt, black pepper and other ingredients). Crisp grilled asparagus and a generous coating of black pepper puree sauce round the dish off, and its dusting of homemade queso fresco cheese (a Mexican dairy mainstay) punctuate the steak with subdued, salty tanginess.
Seafood fans will also be satisfied by the fresh and light RMB 118 carmarones con arroz (plump garlic marinated shrimps that also have queso fresco sprinkling) and the RMB 128 grilled salmon with grilled fennel and portobello mushrooms, as well as sautéed potatoes topped with mango salsa.
Anyone more partial to juicy white meat will want to try the RMB 108 grilled garlic chicken (which comes with a side of rich mashed sweet potatoes) or the RMB 108 grilled pork loin (which we sadly didn't get to try, but will eagerly come back for considering it's grass-fed pork loin grilled and roasted, garlic mash, grilled asparagus, ancho pina sauce, topped with grilled pineapple salsa).
Drawing on Mexico's southern Oaxaca region as an influence – typified by grilling and a spiciness to the cuisine that is subtle and slow burning compared to other parts of the country – Heng has followed in the footsteps of his mentor Rick Bayless. The elder chef opened Frontera Grill in the late 80s to offer the dishes he had enjoyed on his travels through Mexico in Chicago. After his success there and at his other restaurants, Bayless became a celebrated cookbook author and TV personality, and fans like Heng took note and looked on with awe. Heng studied Bayless' books hungrily, teaching himself to make simple Mexican fare and opening Pebbles in Beijing in 2010. The next year, during his first trip to Chicago, he finally had the opportunity to try Frontera for himself, sampling Bayless' cuisine and leaving a letter for his hero with the staff.
The letter said: "I'm your biggest fan from China! I've read all your cookbooks and if you're ever in Beijing I'd be happy to host you," Heng recalls with a smile of the effort he assumed would amount to nothing. Instead, he was shocked in 2014 when Bayless' staff emailed Heng, saying they had been invited to Beijing by the US Embassy. They met up and hit it off, with Bayless giving plenty of cursory cooking tips to Heng. After a visit in 2015 to see Bayless in action at his restaurants, Heng decided to delve deeper and enroll at Chicago's top-notch Kendall College. Bayless even let Heng stay in one of his guest apartments (in a complex where the esteemed chef rents numerous rooms, including a garden where he grows fresh ingredients for his restaurants) to cut down on Heng's commute so that he could focus on his studies and learn a few more tips and tricks at Frontera between classes.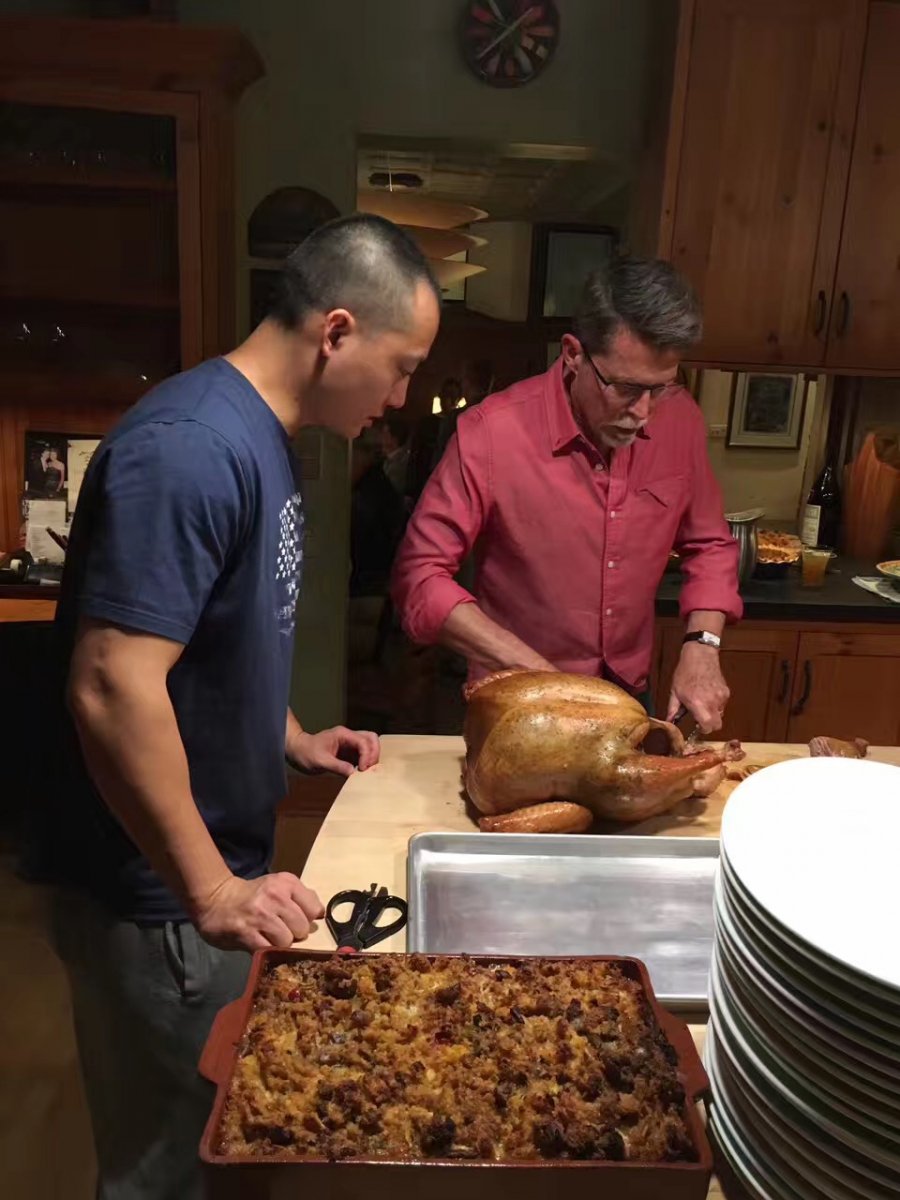 Heng still can't believe his good fortune, calling the experience "magical" and showcasing a level of professionalism and creativity now at Pebbles that clearly reflects the opportunities he's seized. Pebbles patrons are sure to be just as impassioned about those dishes as Heng, considering their modern, upscale but affordable, and creative qualities. Those of us who can't make the trek to Oaxaca or Frontera anytime soon will be glad to have Pebbles bringing that creative Mexican fare to Beijing.
More stories by this author here.
Email: [email protected]
Twitter: @MulKyle
Photos: Kyle Mullin, courtesy of Ray Heng

Visit the original source and full text: the Beijinger Blog