While Temple's Anniversary shows should be at the top of everyone's must-go gig lists this weekend (coffee shot salute) as well as 69 Café's last waltz (couch seat salute), there are plenty of other greats shows to dip into, including, ahem, Live Beijing Music's latest seasonal showcase at DDC on Saturday.

Friday, July 28
Gum Bleed, WHAI, Outsiders at Temple
Temple continues its warpath of celebratory debauchery with a serving of explosive psycho rock featuring heavyweight acts Gum Bleed, anti-establishment punk stalwarts, and WHAI, trance electro rock staples, as they give it their all the at Gulou venue alongside up and comers Outsiders. Plus, special post-show DJ set from DJ Skinnygetlucky who keep things toasty into the early morning. Free 
Jasmine Monk, Wu Gui, Lao Mao, Nick Parsons, Zhang Yi Fan, Chali Liang at 69 Café
69 Café – the tiny little safe haven for folk artists, experimentalists, and other small scale acts in the hustle and bustle of Nanluoguxiang bids farewell as the venue closes its days this weekend. Pay your respects one of these nights as an array of folk scene regulars, who grew up on the joint pay tribute including Jasmine Monk, Wu Gui and more. 66 RMB
While She Sleeps (UK) at Yugong Yishan
One of the most buzzed about metalcore groups to emerge from the UK, mostly due to their topical post-Brexit lyrics and sober musical sensibilities, While She Sleeps, out of Sheffield, England bring their acclaimed recent release You Are We to Yugong Yishan. 260 RMB
Fan Mian Er, Zing Way, Chun, All Unknown, Goodbye Sunset, Add Fire Workers at School
Local promoters FanZui TuanHuo are back with another night of genre-jumping rock and roll including hardcore punk band FangMianEr, Harbin punk rockers ZingWay, pop rock outfit All Unknown, electronic post-hardcore group Goodbye Sunset, as well as upstarts Chun and Add Fire Workers (love that last one). 80 RMB
Giant Saint, Edge Walking, MC Dawei and Band at DDC
An eclectic evening of sounds – from big band hip-hop to indie rock fronting to folk pop swooning – join Giant Saint, MC Dawei and friends, and Edge Walking at DDC for some good-natured fun. 60 RMB
The Zhang Xiongguan Quartet featuring Xu Zhihan at Jianghu Bar
One of the most influential young jazz guitarists and composers in China, Zhang Xiongguan brings his quartet and is joined by rising jazz guitarist Xu Zhihan for some top notch awe-inspiring jazz riffage. 60 RMB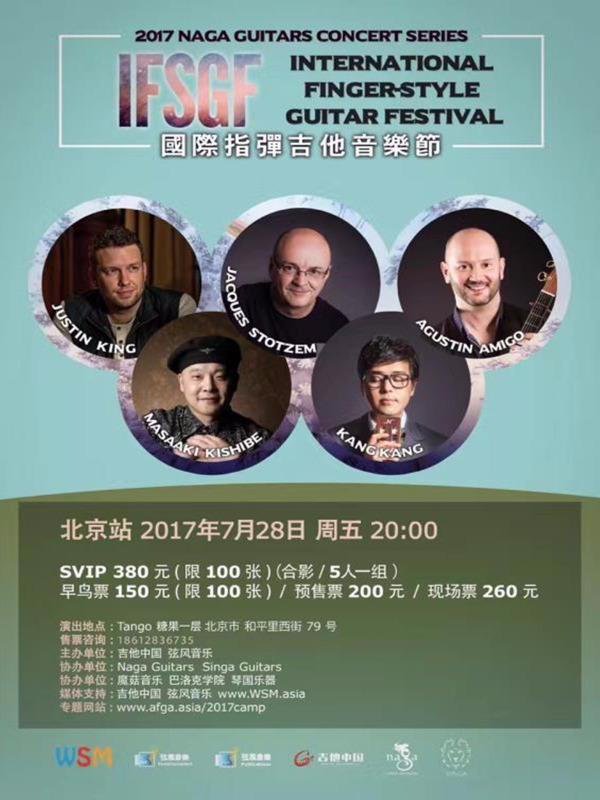 Jacques Stotzem (Belgium), Justin King (US), Agustin Amigo (ES), Masaaki Kishibe Shimabara (JP), Huang Jiawei (TW), Kang Kang at Tango
The International Finger-Style Guitar Music Festival returns to Tango with another stellar lineup of mind-blowing finger-style guitar legends from all around the world share the stage. If that's your thing then really, there's no better place to be. 200 RMB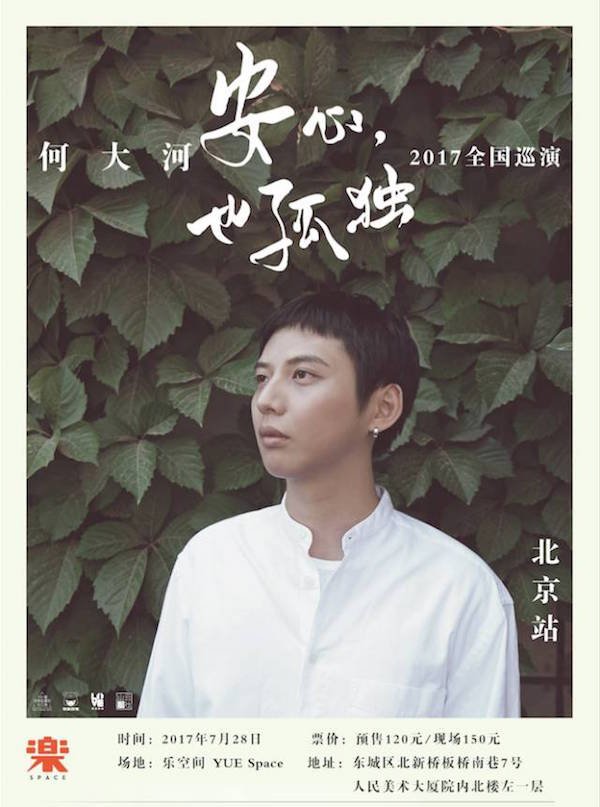 Da He at Yue Space
Indie folk artist kicks off his summer tour in support of his latest EP Peaceful Loneliness – catch the highly acclaimed pristine-voiced singer-songwriting at Yue Space. 150 RMB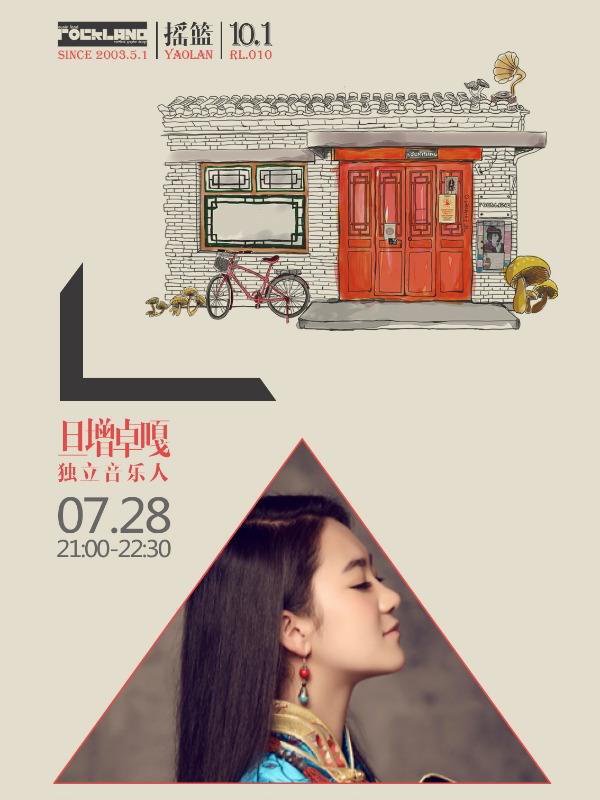 Danzeng Zhouga at Rockland
Tibetan singer Danzeng Zhouga performs at the distro and venue Rockland in Houhai. 120 RMB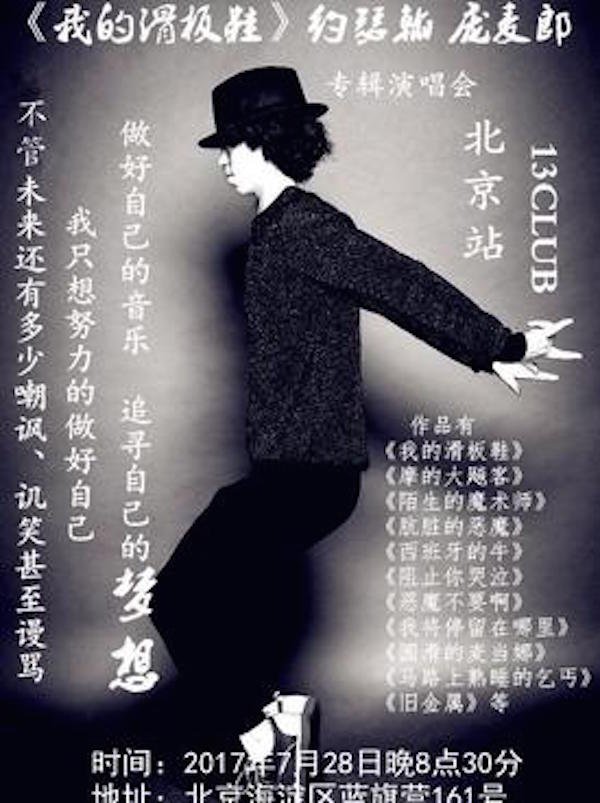 Joseeh Punmanlon at 13 Club
Mando-pop singer Joseeh Punmanlon aka Joseph John Pompley Lang, appears at 13 Club with his catalogue of hits including "My Skateboard Shoes," voted the 'Biggest Earworm of 2014'. 120 RMB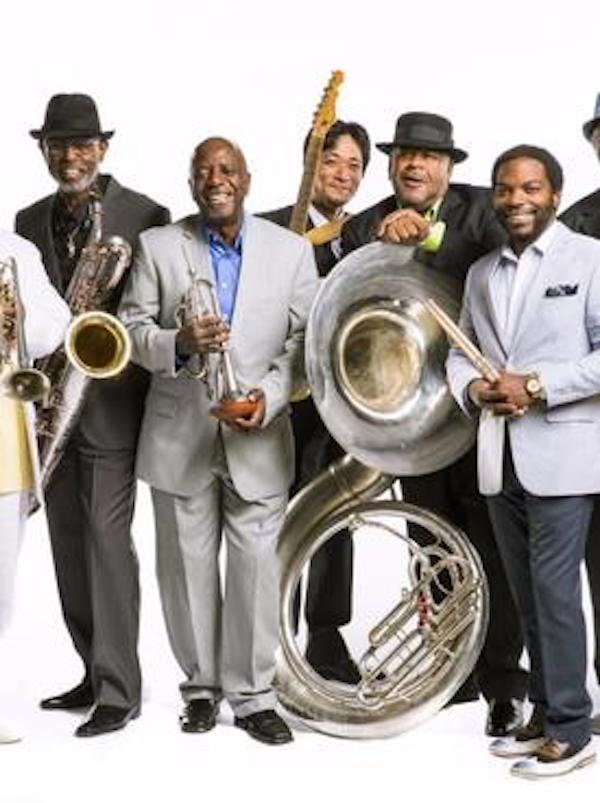 The Dirty Dozen Brass Band (US) at Blue Note
Catch the genre-bending reinventors of the New Orleans brass band – the Dirty Dozen Brass Band – who embrace be-bop, funk, and rhythm-and-blues for some high-octane fun. 320 RMB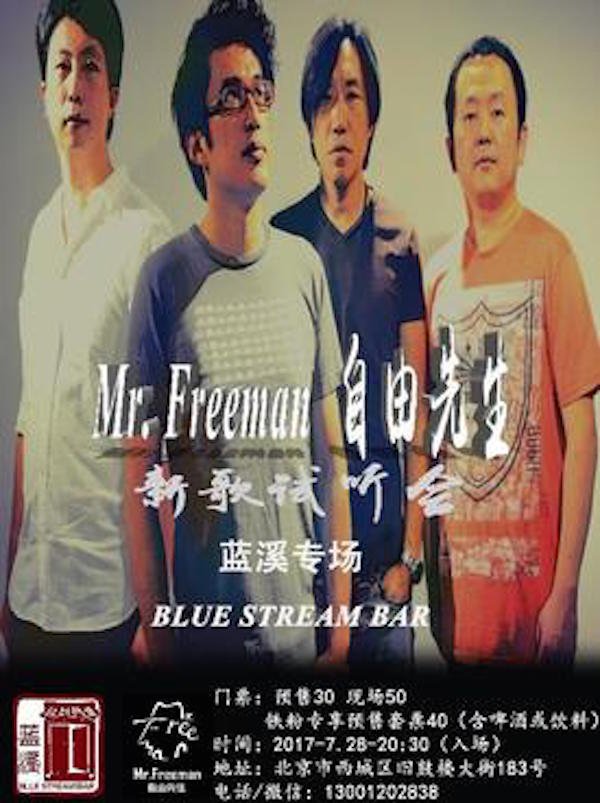 Mr. Freeman at Blue Stream Bar
Mr. Freeman – made up of three locals and a Belgian, and together since 2009 play 90's style rock with funk-inflected hit up the cozy Blue Stream. 40 RMB
 
Saturday, July 29
Last Goodbye, Agoraphobia, Xiao Wang, Ambient Intelligence, 5th Dimension at DDC
Soak in the remnants of summer (ha!) with a whole new crop of bands looking to lay havoc to the music scene and keep the grooves dense and the atmosphere humid as Live Beijing Music and DDC team up again for their seasonal outing with 'Summer Stock' – a stuffed, rollicking package of deviant rock and roll featuring neo psychedelic shoegaze faves Last Goodbye, young indie rock scrappers Agoraphobia, modular synth duo Ambient Intelligence, sugar-coated razor sharp girl punk outfit Xiao Wang, and synth pop duo 5th Dimension. Punk, shoegaze, indie, pop, synths and more – just another summer stroll with LBM and DDC. 60 RMB
Hoochie Coochie Gentlemen, O.G.M.C at Yue Space
Veteran blues rock outfit Hoochie Coochie Gentlemen bring harmonica, acoustic guitars, and some very merry singers to Yue Space alongside outpost blues gangsters OGMC for some Chinese-grown Americana country blues. Gangsta indeed. 100 RMB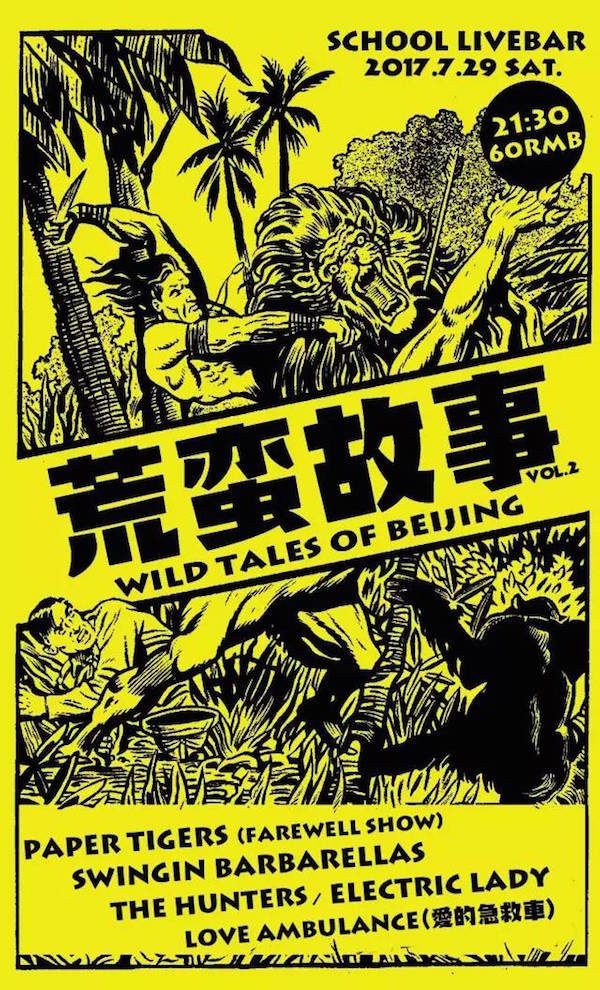 Ambulance of Love, Swinging Babarellas, The Paper Tigers, Electric Lady, The Hunters at School
Say farewell to The Paper Tigers, whose Clash meets Block Party antics came to full fruition this year with their debut release, as they call it a day. They'll be joined by 70s street punks Ambulance of Love as well as the genre-bunny-hopping Swinging Babarellas, The Hunters, and the always reliable stoner rockers Electric Lady. 60 RMB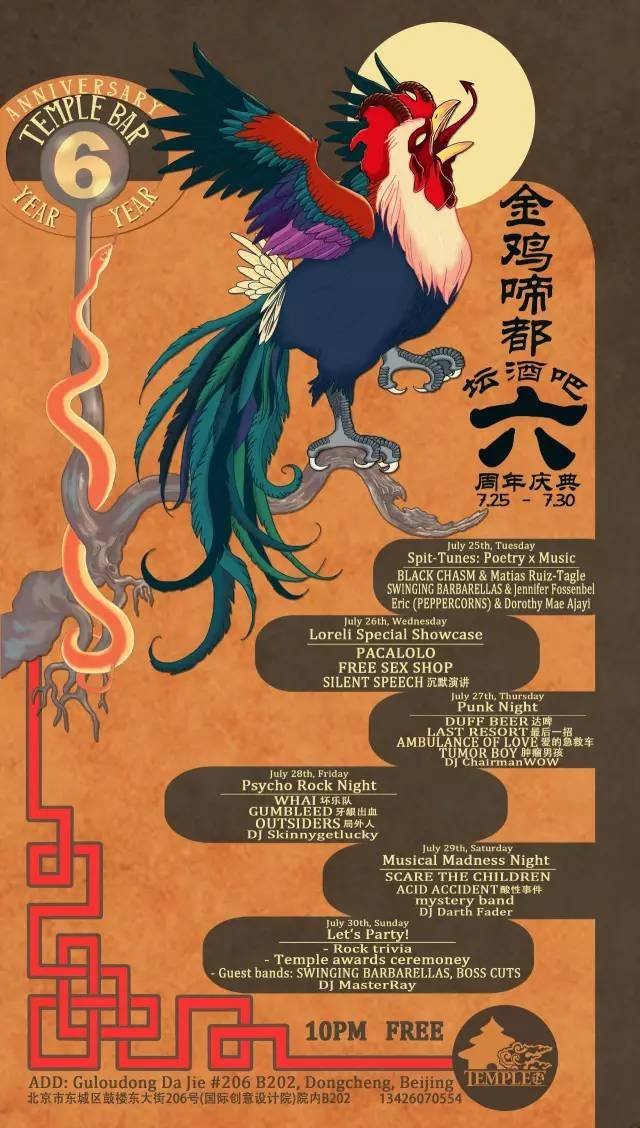 Scare the Children, Acid Accident, mystery band at Temple
Temple Bar saves the best for last and by best I mean the most brutal as horror metal favorites Scare The Children, infamous for their terrifying costumes and set design, bring the noise alongside up and comers Acid Accident, and a super secret mystery band. Considering the circumstances, I'm gonna say it'll be a hell of a ringer. Free
Meng Qi, Nerve, Pink Money at Fruityspace
Kill The Rave is a series of DIY parties organized by Twenty Alpha from Hong Kong, which focuses on the mixing of extreme noise music and electronic club sound, and explores the cultural exchange network throughout the globe's underground scene. Digging it. For their first Beijing outing, they've tapped the electronic wizard himself Meng Qi who'll join Hong Kong experimentalist Nerve and multimedia duo Pink Money. 40 RMB
Li Bo at 69 Café
69 Café – the tiny little safe haven for folk artists, experimentalists, and other small-scale acts in the hustle and bustle of Nanluoguxiang bids farewell as the venue closes its days this weekend. Pay your respects this evening with indie rocker Li Bo, the former lead singer of Jacky Danny, who'll perform. 100 RMB
Kinkorgasm, Rotating Glasshouse at Jianghu Bar
Offbeat sounds and sensibilities at Jianghu Bar as indie rock scrappers Rotating Glasshouse joins solo no wave artist Kinkorgasm. 60 RMB
Wicked Bones, Lifer, Source Code, Xue Fengche, Hard Bones at 13 Club
Join the rough and tumble of Wudaoku and fight the good fight with the university students as they head mash their way into summer without a care in the world as a slate of hard rock and metal bands take the stage. 80 RMB
 
Sunday, July 30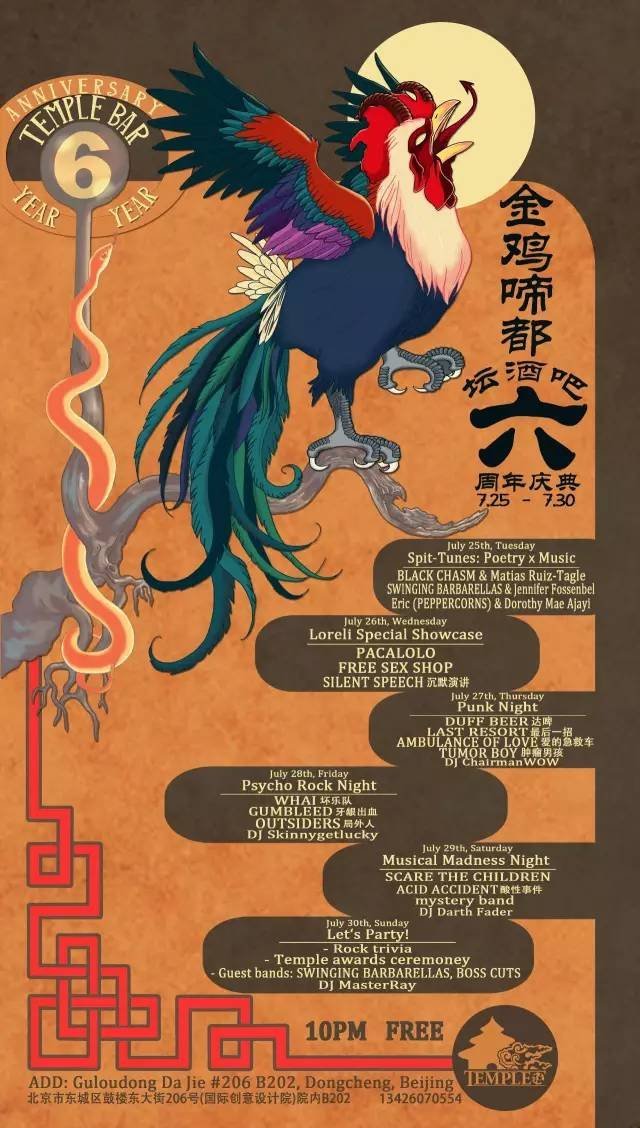 Swinging Barbarellas, Boss Cuts at Temple
After five nights straight of rock and roll fever dreams and mind numbing hangover Temple cuts loose for their true anniversary show – as friends and family join for a festive celebration of Temple's righteous spot in the music scene, complete with a special rock trivia game, a ceremony, and special sets from the mischievous Swinging Barbarellas and surf rock duo Boss Cuts. Congrats Temple! Free
Juan Carmona Quartet (SP) at DDC
Nominated countless times for the 'Best Album Flamenco' at the Latin Grammy Awards, Juan Carmona is considered one of the best flamenco guitarists in the world. At the intersection between musical modernity and the oldest flamenco traditions of Andalusia, Juan Carmona is an innovator, one of the most valiant links of his generation. Catch him and his band this evening. 150 RMB
Backspace, Boss Cuts at 69 Café (afternoon)
69 Café – the tiny little safe haven for folk artists, experimentalists, and other small-scale acts in the hustle and bustle of Nanluoguxiang bids farewell as the venue closes its days this weekend. Pay your respects this afternoon as indie rockers Backspace and surf rock duo blast out some jams in the afternoon.
Cai Xiaolun, Zhang Guangqian, Nick Parsons at 69 Café (evening)
The bittersweet goodbyes continue into the evening as more scene regulars take turns paying their respects to 69 Café including Cai Xiaolun, Zhang Guangqian, and Nick Parsons (pretty much there every night – that's love). 88 RMB
Leng Shan Hu at School
Straight out of Beijing's current high school system, young rockers LengShanHu are spending their summer break taking a trek around China's live houses on their first tour of China. Support the kids! 60 RMB
Phew! Still hungry for more? Check out all of our live music listings here.
Images: Live Beijing Music, courtesy of the organizers

Visit the original source and full text: the Beijinger Blog