If you've ever wandered into a chic bottle shop hunting for some craft brews you're likely to have noticed that Belgian beer is a strong player in the scene, which would be an understatement. Belgians used to drink an average of 200 liters per year back in 1900, a figure that has since dropped to 84 liters, which is still a considerable amount, and knocking one back lives on as one of the country's favorite pastimes. Even with intake halving, 180 breweries continue to pump out their golden wares, including one particularly special and time-tested variety.
That very brewery, Halve Maan Brewery, is now bringing their quality take on beer to Beijing. Located in the UNESCO World Heritage site-approved historical city center of Bruges, the brewery was established by the Maes family in 1856, and the precious legacy has now been passed down through six generations. Now, the family has undertaken a project to fulfill their need to remain in the same city where their product was created.
A Beer Pipeline is Born
In 2016, The Halve Maan Brewery opened the world's first underground beer pipeline. Sadly, the pipeline doesn't make a single detour into resident's houses but has instead been built to protect the medieval cobbled stone streets of Bruges. "In the past, our huge tankers constantly had to make their way through the narrow streets of Bruges," says CEO Xavier Vanneste. "It was no longer sustainable. Thanks to this beer pipeline, we will be able to remain in the city while improving the traffic and quality of life of the residents." 
The three-kilometer pipeline links the brewery to the bottling plant on the outskirts of the city and can maintain a beer flow of over 4,000 liters per hour, directly underneath the historic streets of Bruges.
What is a Belgian Beer?
The "Belgian Beer" label is thrown around a lot and some breweries slap it onto their product without serious grounds for using it. To protect, promote, and encourage historic and independent family breweries, a non-profit organization, Belgian Family Brewers, has developed the following criteria to separate the wheat from the chaff:
A genuine Belgian beer must be brewed in Belgium,
It must come from an independent family brewery that has been brewing beer for 50 years-plus or a minimum of three uninterrupted generations,
It must be an original beer that has not been produced under another name or label.
The Halve Maan is one of the only 20 breweries that has been deemed suitable to carry the association's label of a proper Belgian brew.

For now, they only offer four types of craft beers:
Brugse Zot Blond: A golden-blond beer, brewed using four different kinds of malt and two varieties of hops. It has a fruity and spicy bouquet and rich foam with a distinctive taste and 6 percent ABV. Being the most highly decorated Belgian beer, it has won gold medals at the World Beer Awards, World Beer Cup, and the Brussels Beer Challenge.
Brugse Zot Dubbel: A dark brown beer with 7.5 percent ABV, brewed with six varieties of malt, giving it a rich and exclusive aroma with hints of honey, almonds, chocolate, and brown sugar. It has a warm glow with a bitter and hoppy finish and a coffee and licorice aftertaste. This one could work as a great morning coffee substitute if it was not for the 7.5 percent ABV.
Straffe Hendrik Tripel: A golden triple with sturdy white foam, brewed using six kinds of malt as well as Saaz and Styrian hops. It delivers spicy notes of black pepper, coriander, ginger, and orange. Hints of caramel and bitterness gently mix on the palate with a citrusy finish, and a subtle, sweet banana flavor, which thankfully balances the boozy kick of the 9 percent ABV.
Straffe Hendrik Quadrupel: Launched in 2010, the Straffe Hendrik is an intense and full-bodied beer with a rich, dark color. It pleasantly surprises with notes of spicy coriander, dark fruits, anise, and roasted chestnuts, and a syrupy taste to round it off. Don't be scared away by the steep 11 percent ABV.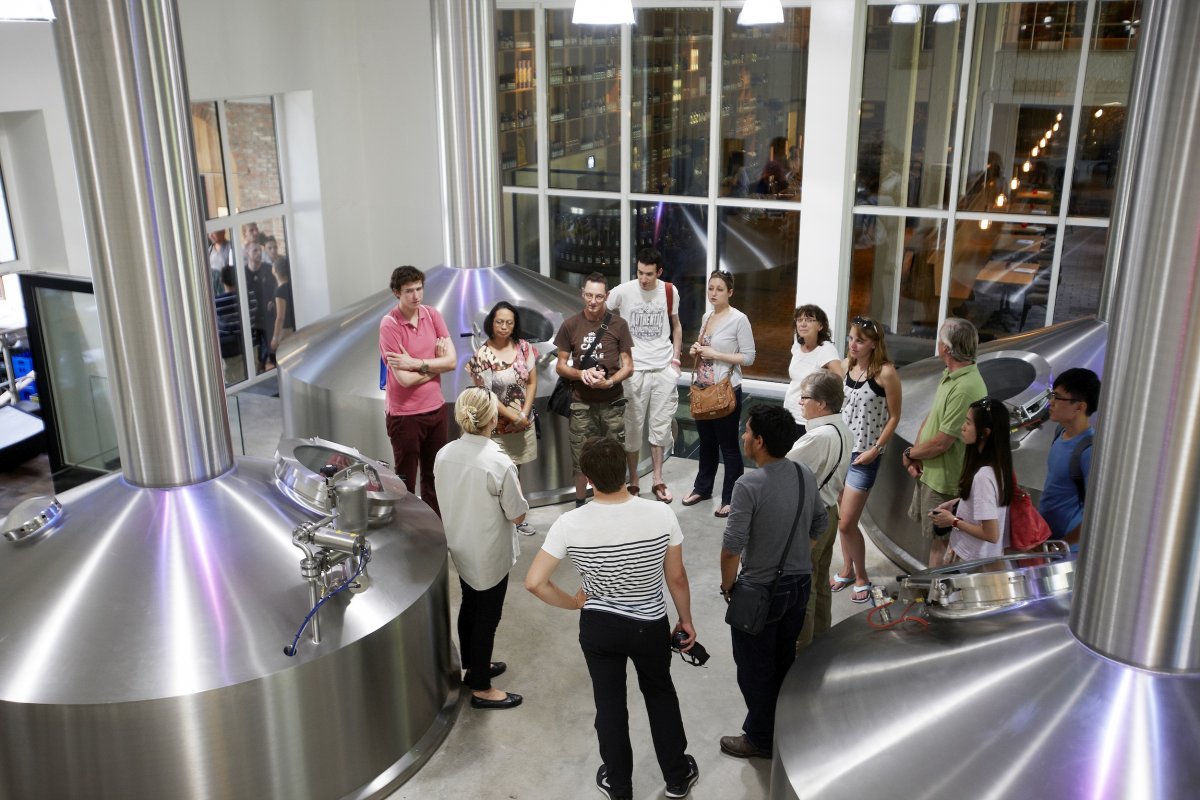 Where to Find These Brews:
Beijing now has several bars that offer Halve Maan beers, simply head to the one closest to you:
Beermania has the complete selection. Enjoy Brugse Zot Dubbel on tap and relax on the terrace for a real summer treat.
The Rug stocks Brugse Zot Blond and Straffe Hendrik Tripel. They also cook mussels using a splash of Straffe Hendrik Tripel.
White Tiger Village stocks Straffe Hendrik Tripel and Quadrupel. Pair one (or both) with White Tiger's gourmet skewers.
Moxi Moxi (22 Beixintiao Santiao) have the complete selection. Sip on a Belgian beer alongside delicious Israeli cuisine, including some of our favorite pitas, falafels, and hummus.
Twenty Nice Grill at Conrad Hotel stocks Brugse Zot Blonde and Straffe Hendrik Tripel.
Expect more venues to stock this special beer as summer progresses.
More stories by this author here.
Email: [email protected]
Twitter: @flyingfigure
Instagram: @flyingfigure
Photos courtesy of Halve Maan, dailymail, hexapolis, abcnews

Visit the original source and full text: the Beijinger Blog