A showdown between authorities and the supporters of a charity group have led to a rare protest in the nation's capital that has become so big, it has closed down a major road.
Reuters reported that police blocked off a major intersection in a southern Beijing neighborhood on Monday after numerous "investors" of a self-described charity company descended upon a local convention center to protest.
Executives of the "Shanxinhui" company were arrested last week, accused by authorities of running a "pyramid scheme" that "duping people out of money in the name of raising funds to help the poor," reported Xinhua.
"They have accused the company of pyramid selling but they did nothing wrong. They only wanted to help poor people. It's an injustice," said a protestor named Zhong who came to the protest from Xinjiang.
A YouTube video reportedly taken at the convention center, which has been blocked off by local police, shows what appears to be hundreds of protestors singing the Chinese national anthem. According to Reuters, police did not intervene when dozens of "company investors" stood on the road outside the center.
Local police have warned in recent news reports that organizing and inciting people to gather and protest at illegal gathering disrupts public order and constitutes "illegal behavior." And just yesterday, the Bureau of Industry and Commerce punished the Shenzhen-based company with a one million yuan fine for broadcasting a "fake" commercial last October that illegally used the name and images of state institutions.
But despite the constant pressure on Shanxinhui by authorities, company supporters have continued to mount public protests such as this one in Hunan, petitioning the government to unfreeze some 5.5 million yuan in Shanxinhui funds: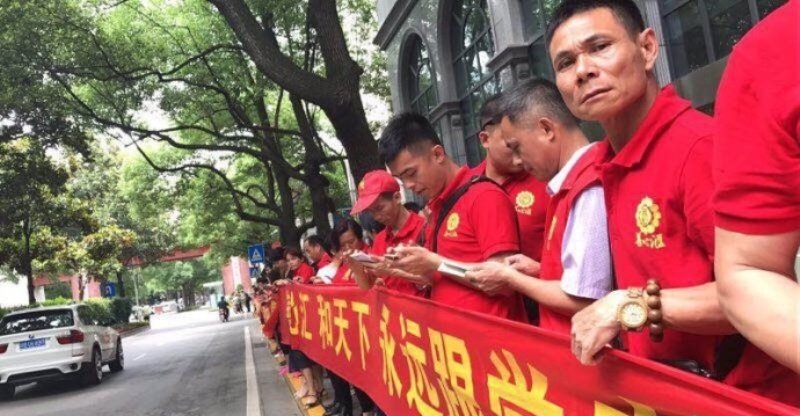 And also this one in Heilongjiang, also in June:
Besides providing acts of charity for economically-disadvantaged rural residents, Shanxinhui was responsible for making a joint Hong Kong-Taiwan film production with the purpose of "inspiring public sentiment." 
Called You Are My Eyes, the film is about a man who engages in charity work after losing his sight in a car accident. However, when a second car accident miraculously restores his eyesight, the man's new lover abandons him out of shame due to the scar that disfigures her face, only to reconcile at the end when the audience learns the value of compassion and understanding.
Shanxinhui is the latest charitable organization that has run afoul of Chinese authorities. Some 350 institutions have been blacklisted by police, accused of "brainwashing" their followers.
Such large public protests, like the one at the Beijing Zoo Market last month or the one involving PLA veterans this past spring, are rarely seen in Beijing. To deal with such problems, the city is equipped with a standing force of 1.4 million personnel available for "mass gathering control."
More stories from this author here.
Twitter: @Sinopath
E-mail: [email protected]

Visit the original source and full text: the Beijinger Blog