The restaurant and bar strip northeast of the Shuangjing intersection is left reeling after a large group of officials temporarily shut down a number of local businesses in a series of raids made Thursday night.
Bars such as The Brick, Lily's, Ashen, Cheers and Charlie's were all affected in the sudden police action.
One source told the Beijinger that "every store" on "the entire street" were forced "to give away their point-of-sale" (POS) information to authorities, showing a photo of their business computer before it was confiscated.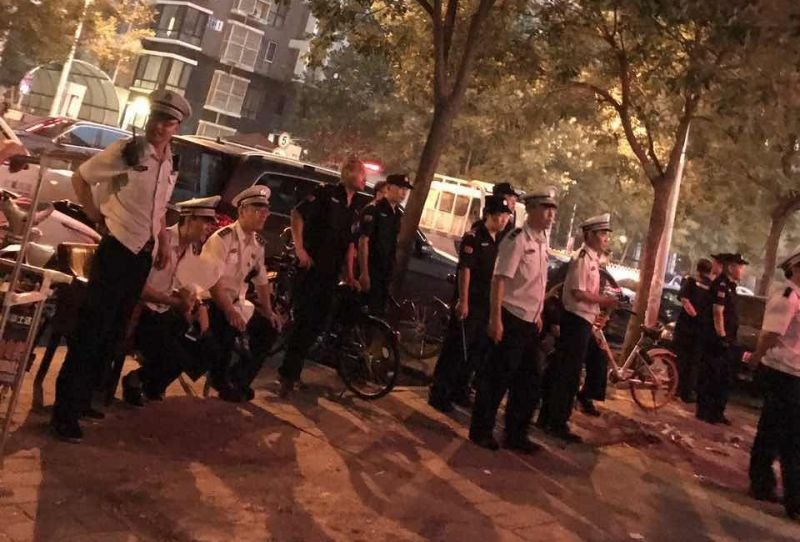 Photos taken at the scene show dozens of uniformed police and black-suited teqin (special police) were on hand to enforce the police action, as were members of the chengguan (city enforcement). One witness estimated the police presence to include some 50 people.
The raids began around 8pm on Thursday with affected businesses owners warning that other establishments may be affected. However, by 9:20 the same night, a correspondent for the Beijinger reported that the entire street had become quiet and that the police presence had vanished, as though they were never there.
According to sources, the major focus for police was the removal of outdoor seating for each of the restaurants. When this condition was met by local business owners, the satisfied officials left the scene.
Local authorities have made their presence well-known to Shuangjing business owners this summer.
Last month, in keeping with a city-wide government initiative on urban renewal, local business owners were forced to adhere to a municipal order that decided storefront signs must look more similar.
READ: Bye Bye Business: Pictures Show Favorite Hutong Haunts Before and After Bricking
After agreeing to "government plans to give all the signs a uniform appearance in an attempt to make them look better," the Beijinger reported that Shuangjing F+B businesses had "dodged a bullet" by avoiding the "bricking over" that many less fortunate hutong businesses were forced to endure.
In fact, the Shuangjing municipal government's crackdown on signs has been so fierce that they have become national news. Last week, numerous Chinese news outlets reported that Shuangjing police and chengguan dismantled a street sign for "Geyu Road" (葛宇路), a fake street name named after a local resident that was able to fool everyone — including Baidu Maps — for three whole years.
But although Thursday's raids were a source of worry for business owners, some local residents are pleased with the crackdown as the strip of venues that line the first floor of the compound have been a cause of complaints for neighbors living in the apartments above.
READ: Modernista, Mr Shi's, The Orchid Survive Baochao Hutong Renovations
With the outdoor seating removed, some people have written on WeChat that they can "finally get some sleep" now that the cause of many noise complaints has disappeared. Others quoted a Chinese proverb saying that when property owners work together, they can "move mountains." 
However, that's not the only complaint made by local residents, some of whom disagree with Thursday's police action.
"Those shitbums did fuck all," said one expat resident whose apartment unit is located above the exhaust of an unlicensed restaurant, causing continuous nuisance odors in his home. The resident told the Beijinger he had previously been working with local residents of the Tianzhi Jiaozi compound to lobby the district government to shut down venues without proper licenses.
More stories from this author here.
Twitter: @Sinopath 
Images: Weibo, WeChat

Visit the original source and full text: the Beijinger Blog