We first noticed Yun Brew while walking to Burger Break last month for a giant avocado cheese burger and a strawberry milkshake. We're happy to report that this three-month-old brewpub is yet another promising addition to the burgeoning Xiaoyun Lu neighborhood. We were particularly impressed by Yun's 21 draft beers, made up of local and imported brews, as well as their in-house brews, all of which will easily attract many of the area's thirsty workers.
Yun is located towards the back of Xiaoyun Lu, alongside a Japanese bar and a steakhouse. Upon arrival, the first thing you'll notice in the brewpub's lush garden and its airy outdoor seating. Stepping inside, patrons are welcomed by four tanks, which amount to a 300-liter brewing system. There's also an al fresco area on the second floor.
The bar is located in the back, on the right, in front of a big blackboard presenting all of the 21 beers they have on tap, with six of their own: The True Friends Wheat, Silent of Lava Peat (6 percent ABV), The Spring Breeze Far Away Wheat, Black Hand Porter, Yun IPA, and No Problem Brown Ale.
Their domestic options, meanwhile, include Extra Pale Ale, Red Lager from Boxing Cat, along with a Cucumber Saison, Pumpkin Chai Porter, and Berliner Drop IPA from Taps. Among the imports are Belching Beaver Peanut Butter Milk Stout, a cider and pilsner from Moa, De Molen Heaven and Hell, Liefmans Fruitesse, Temple Anytime Pale Ale, and Fruili strawberry beer. The price of a pint ranges from RMB 45 to 88, which isn't the cheapest in town by any means, but a flight of any four is RMB 68, and a flight of any six is RMB 98, which is quite reasonable.
We ordered a flight of six of their in-house brews, but were sad to be informed that The Spring Breeze Far Away Wheat was out of stock. The Black Hand Porter had good malty notes but tasted lean on the body. Then we tried their hoppy IPA, but both it and their No Problem Brown Ale had an off-putting flavor that reminded us of sanitizer (at least they are disinfected, right?).
Instead, we recommend you try the far superior Pumpkin Chai Porter (RMB 68 a pint) with its smooth texture and a strong, spicy flavor that we thoroughly enjoyed, in part because it reminded us of masala tea. Another highlight is the Belching Beaver Peanut Butter Milk Stout. At 5.3 percent ABV, it has a roasted coffee aroma, tastes of chocolate and peanut butter, and boasts a silky finish. It's not only a satisfying pint, but is also indulgent enough to double as a dessert (sorry, PB and J-lovers, there's no jelly in this brew).
To cater to those looking for a nearby lunch or dinner after a long day at the office, Yun also provides salads (RMB 36-48), pasta (RMB 28-45), and pizzas (RMB 38-85 for nine-inch, RMB 48-98 for 12-inch). If you are a party of carnivores, go for the roast lamb leg (RMB 358), roast pork chop (RMB 158), or sausage platter (RMB 158).
We tried the half black-peppered beef, half durian pizza (sure, not for everything, but we were curious!). The steak side of the pizza proved the favorite, as the meat comes well-seasoned and makes for a good accompaniment to the steaming-hot dough with its generous distribution of cheese. The durian pizza was sweet and didn't have the strong, ripe smell that your nose is often subjected to in the grocery store, so don't be scared to give it a try.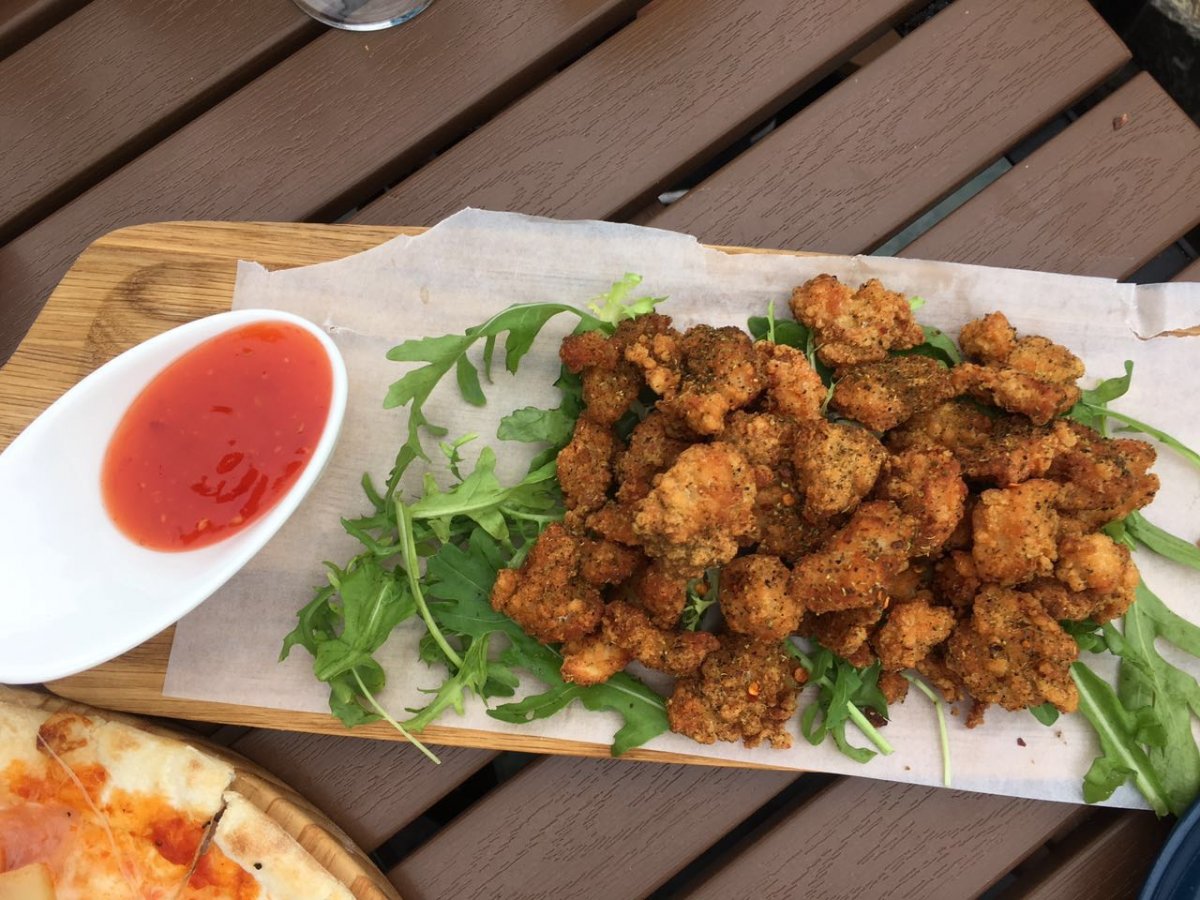 We also enjoyed the prawn and avocado salad (RMB 48), featuring fresh lettuce, avocado, prawns, red beans, and corn. But the real winner was the popcorn chicken (RMB 42). Every little bite of jhuicy chicken was covered with a golden crust, seasoned with spices and served on a layer of arugula to give the illusion that it's healthy (though none of us touched that). The Thai-style chili sauce on side elevated this menu item all the more, making it especially great when coupled with a cold pint.
The fridge is also not lacking in interesting options, with some imports from Australian brewery Kaiju, Icelandic brewery Einstök, Italian brewery White Pony, and more. We look forward to come back and try them all in the near future.
The added warm and kind service certifies Yun as another strong addition to Xiaoyun Lu's new thriving range of restaurants and bars, giving us more incentive to flee Sanlitun and investigate further north.
Yun Brew
Daily 11am-2pm. 15-40, Xiaoyun Dining Back Street, 15 Xiaoyun Lu, Chaoyang District (8069 9907)
蕴酿精酿餐吧:朝阳区霄云路15号霄云美食街后街15-40
More stories by this author here.
Email: [email protected]
Twitter: @flyingfigure
Instagram: @flyingfigure
Photos: Tracy Wang

Visit the original source and full text: the Beijinger Blog