With beer drinkers, the taste and quality of a beer carry significant weight when deciding if you do indeed like a beer or not, and an interesting and recitable story behind a beer often makes the enjoyment of the tipple even greater. To truly appreciate German beer, you have to understand the history behind it, and in fact, much of its history relates to one family, the Wittelsbach family, which dates back to 1260. Duke Ludwig "the Severe" founded the first royal family brewery in Munich.
A few centuries later, in 1516, the reinheitsgebot, known as the Beer Purity Law, was adopted in Bavaria by William IV, Duke of Bavaria. This law limited the ingredients to produce bottom-fermented beer to water, barley, hops, and yeast, and allowed for the additional use of malted wheat in top-fermented beers. Since 1919, the Beer Purity Law has had a great impact on the types of beer brewed today. The law was instated to cover all German beer. 
For 200 years, between 1601 and 1801, the Duke Maximilian I from the Wittelsbach family monopolized brewing weissbier (wheat beer). In October 1810, the wedding celebration of Crown Prince Ludwig I and Princess Therese of Saxe-Hildburghausen marked the first-ever Munich Oktoberfest, which would go on to draw six to seven million visitors annually. Then in 1868, King Ludwig II established a brewing science faculty at the old Benedictine Abbey of Weihenstephan outside Munich, which happens to now be part of the Technical University of Munich.
Quality Matters Most
HRH Prinz Luitpold von Bayern has set himself the target brewing and to offering only the best beers of each style since being obliged to the Bavarian Purity Law was issued by one of his ancestors in 1516. His family recipes have been fine-tuned over the centuries and follow Royal Bavarian brewing and processing procedures to guarantee the highest quality.
HRH Prinz Luitpold von Bayern and his technical team ensure that all beers from Kaltenberg Castle are brewed under strict quality control measures. Guaranteed compliance with all Royal Bavarian brewing standards and specification is mandated for those breweries allowed to brew Kaltenberg beers. The monthly control by Bavarian brewmasters and the steadily degustation and taste approval under the supervision of HRH Prinz Luitpold von Bayern lead to many accolades, including international quality gold medals for breweries licensed by König Ludwig International.
The König Ludwig brand specializes in several Royal Bavarian beers. Their Weissbier (5 percent ABV), brewed with Kaltenberg's special yeast, wheat, barley, and Hallertau hops are particularly refreshing with notes of clove, banana, melon, and elderflower. The body is cloudy with a hint of yeast and the foam is stable and tight. One of their leading dark beers, the Dunkel (4.6 percent ABV), is brewed with three various malts, Hallertau hops, and yeast that gives the brew a copper color, a clear body, and a creamy foam. It has aromas of cinnamon, nougat, caramel, and roasted malt, and flavors of chocolate, orange, almond, and caramel, with a pleasantly bitter finish and a full body.
Useful beery words
Beer 啤酒 píjiǔ
Water 水 shuǐ
Hops 啤酒花 píjiǔhuā
Yeast 酵母 jiàomǔ
Barley 麦芽 màiyá
Brewery 酿酒厂 niàngjiǔchǎng
Bavarian 巴戈利亚 bāgēlìyà
Weissbier/wheat beer 白啤酒/小麦啤酒 bái píjiǔ/xiǎomài píjiǔ
Dunkel 黑啤酒 hēi píjiǔ
Bavarian Purity Law 啤酒纯酿法 píjiǔ chúnniàng fǎ
Beer garden 啤酒花园 píjiǔ huāyuán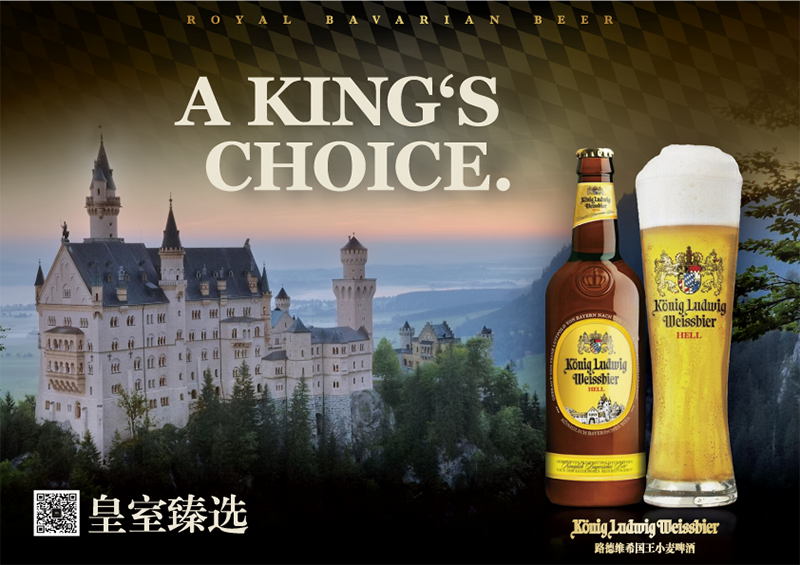 Conversation starters
Can I have a bottle of König Ludwig Weissbier?
我可以点一瓶路德维希国王小麦啤酒吗?
Wǒ kěyǐ diǎn yīpíng lù dé wéi xī guówáng xiǎomài píjiǔ ma?
I like the lingering aftertaste of this beer.
这款啤酒的余香很久,我很喜欢。
Zhèkuǎn píjiǔ de yúxiāng hěnjiǔ,wǒ hěn xǐhuān.
A classic wheat beer always has aromas of clove and banana.
经典的小麦啤酒一般有丁香和香蕉的香气。
Jīngdiǎn de xiǎomài píjiǔ yībān yǒu dīngxiāng hé xiāngjiāo de xiāngqì.
The body of Dunkel is not cloudy as Weissbier.
黑啤酒的酒体不想小麦啤酒那样浑浊。
Hēi píjiǔ de jiǔtǐ búxiǎng xiǎomài píjiǔ nàyàng húnzhuó.
This subtle and creamy foam is the treat of summer.
夏天喝绵密如奶油般泡沫的啤酒真是享受。
Xiàtiān hē miánmì rú nǎiyòu bān pàomó de píjiǔ zhēnshì xiǎngshóu.
The Dunkel is very drinkable thanks to it being under 5 percent ABV.
酒精度不到5度的黑啤酒非常易饮。
Jiǔjīngdù búdào 5 dù de hēipíjiǔ fēicháng yìyǐn.
Could you buy a box of König Ludwig Dunkel for a friend's birthday?
有朋友要过生日了,可以订一箱路德维希国王黑啤酒吗?
Yǒu péngyǒu yào guò shēngrì le, kěyǐ dìng yīxiāng lù dé wéi xī guòwáng hēi píjiǔ ma?
You can get your hands on all the abovementioned beers here.
Visit one of the following locations to find any of the brands mentioned: 
Hotel
China World Hotels
Crowne Plaza Beijing Lido and Crowne Plaza Zhongguancun
Metropark Lido Hotel Beer Garden
Nuo Hotel
Rosedale Hotel Beijing          
Four Points by Sheraton Beijing
Swissotel Beijing, Hong Kong Macau Center
Grand Mercure Beijing Dongcheng

Bars
Paddy O'Shea's
Zeit Berlin
Hopfenstube Germany Restaurant
Shuilintianyue
Groovy Schiller's

Restaurant (Dianping's Chinese addresses) 
Bianyifang Roast Duck Restaurant (airport branch)
Liang Restaurant
General Chi Yan Charcoal Burning Meat House
The Original Mud Furnace
Hongsheng Beer Garden
Uncle Crayfish
Supermarkets
Jenny Wang
Cheers Wine
This post is paid for by König Ludwig Weissbier. 
Images courtesy of König Ludwig Weissbier. 

Visit the original source and full text: the Beijinger Blog