We're big fans of Tribe here at the Beijinger, so we jumped at the chance to go and sample their newly-released summer menu last week. The new menu comes as part of the launch of a new campaign called "Feed Your Body Beautiful," which builds on their previous slogan "you are what you eat, drink, and breathe" and aims to teach people that beauty starts on the inside when you eat clean, eat enough, and eat smart.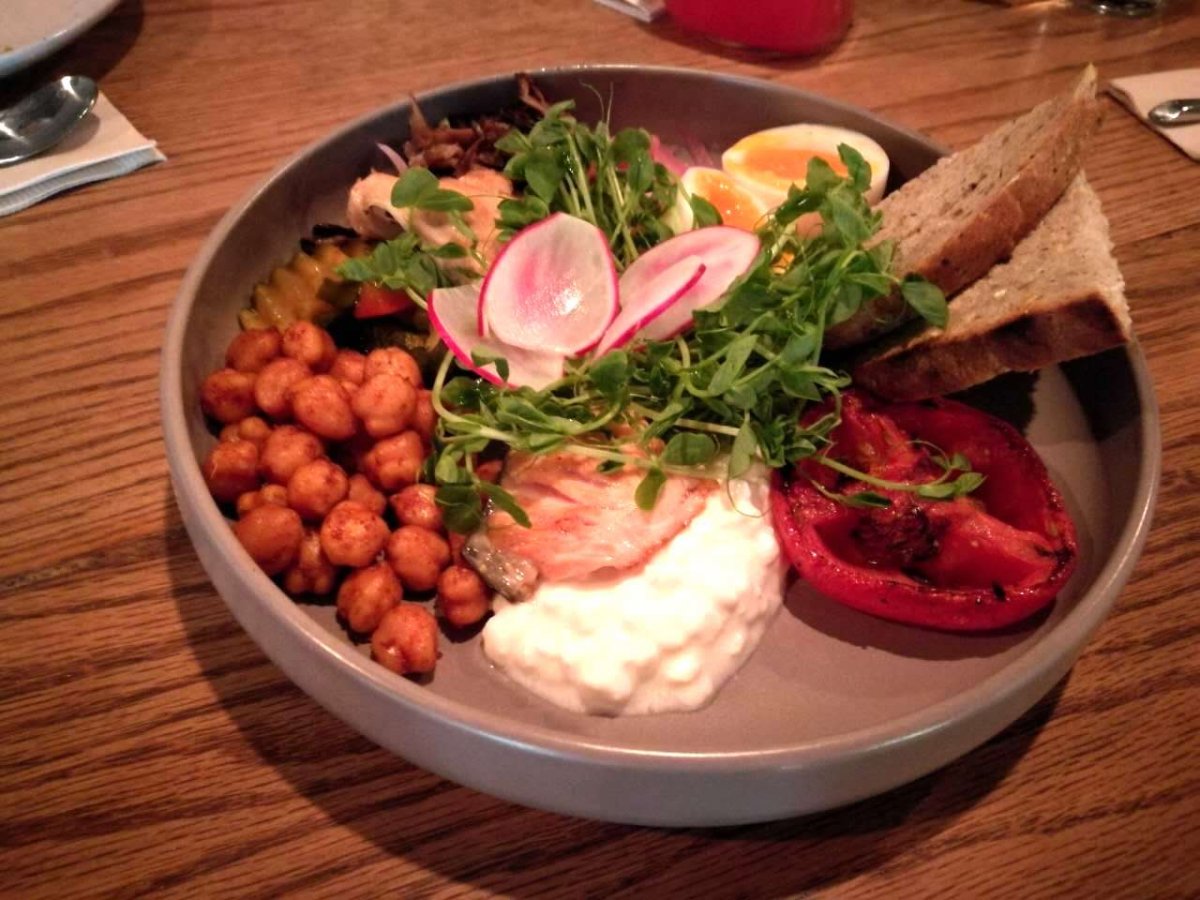 We did as instructed and started feeding our body with two new breakfast dishes, the Big Time Breakfast Platter (RMB 68) and the Marvellous Matcha Pancakes (RMB 48). The platter is a nice twist on the usual "big breakfast" concept, subbing in roasted chickpeas and grilled salmon for more common proteins like bacon or sausage. The whole thing is freshened up with pickles and homemade cottage cheese. Good as the platter is, the matcha pancakes (pictured at top) drew the most coos of approval, with the matcha well-balanced (i.e. not bitter) and complemented by a clever ginger-infused maple syrup.
Tribe usually impresses with creative salads and this summer's menu is no exception. By far and away the standout is the Big Cheese Platter Salad, a heaping plate of arugula-kale lettuce mix topped with three types of cheese (mozzarella, parmesan, and feta), cherry tomatoes, sliced peaches, and honey-mustard dressing, and served alongside whipped feta toast. What really makes this salad, however, is the almond and parmesan crisp on top, which adds an extra dimension of texture and umami.
Among the entrée-type dishes, the whole grilled mackerel (RMB 168) immediately caught our attention. The fish itself is simply seasoned with a touch of lime and served alongside a homemade sambal jam. The summer menu was designed by local chef Sue Zhou, who grew up in Holland on a fusion diet of Dutch-Chinese-Indonesian food and the pan-Asian influences on her cooking definitely show in this dish, as they do in the Oh My Gado Gado Wrap (RMB 58), a twist on the peanutty Indonesian salad of the same name. 
These Asian-influenced dishes go particularly well with the Summer's Second Wind juice (RMB 38), a refreshing blend of watermelon, pear, lime, and lemongrass. Whoever thought of pairing watermelon and lemongrass deserves a medal in my book – I will be drinking this all summer. 
Those in search of something slightly more indulgent would do well to try the Green for Life Vegetarian Pizza (RMB 88), which comes topped with spinach, fava beans, feta cheese, and a healthy portion of stringy mozzarella. Whether you are gluten-free by necessity or by design, you will be happy to hear that the pizza has a gluten-free almond flour crust instead of the usual bread base. We won't pretend that it's a substitute for the real deal but the crust is tasty in its own right, with a firm structure and crispy edges. 
Get down there and try those new dishes ASAP because from July 17-22 there is 40 percent off everything (yes, everything) when you dine in at Tribe Sanlitun, in celebration of that store's third anniversary. As good excuse as any to "feed your body beautiful."
More stories by this author here.
Instagram: @gongbaobeijing
Twitter: @gongbaobeijing
Weibo: @宫保北京
Photos: Robynne Tindall, Tom Arnstein

Visit the original source and full text: the Beijinger Blog