Softly opening at the end of May and tucked away on the first floor at the east side of Chaowaimen Compound (just north of Alien Street), Forty+ Taphouse is a bit hard to find but its off-the-main-street location means that it's a quiet escape from the nearby noise. 
Also, its name couldn't be more apt, wearing its 40-plus draft beers on its sleeve, made up of a selection of their own brews, as well as some from domestic breweries, and some imported. They apparently even made a point of installing one more tap than their nearest competitor, NBeer Pub Wukesong, which features 42 beers on tap.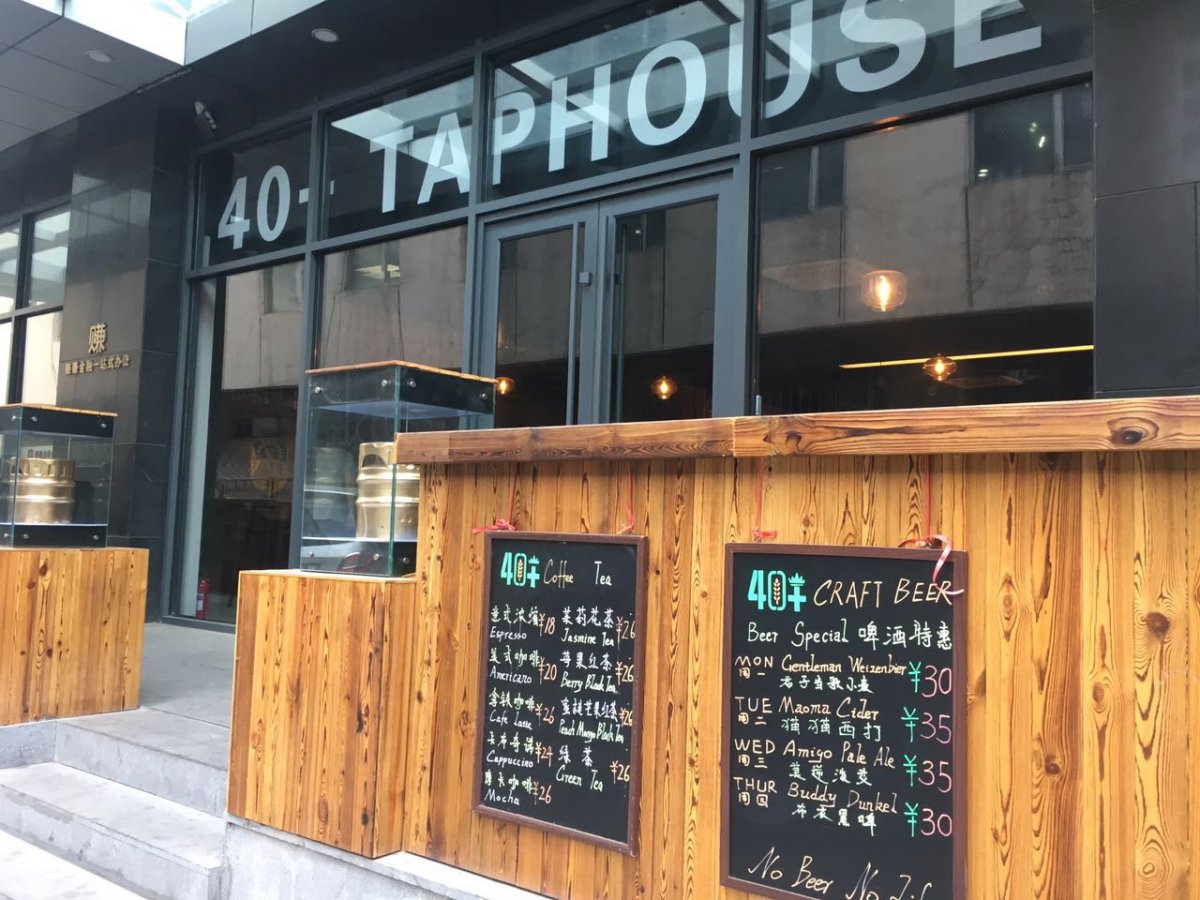 The eight beers made at Forty+'s brewery in Fengtai, include Gentleman Weizenbier (4.5 percent ABV), Amigo Light Ale (5.1 percent ABV), Buddy Dunkel (5 percent ABV), Rock n' Roll Stout (6.5 percent ABV), Pepper Stout (8 percent ABV), Trance Angel IPA (6.5 percent ABV), and Maomao Cider (5.3 percent ABV). A flight of four costs RMB 88, and every day one of their beers go up on special for RMB 30-35 a pint. We particularly enjoyed the Rock n' Roll Stout, which was creamy, malty, and sweet. The Trance Angel IPA, a hoppy New England-style IPA, was decent but we've had better renditions around town.
As for the domestic varieties, there's the wheat ale from Harvest, Dongbei IPA from Jing-A, Captain IPA from Urbrau, Phenomenal Oyster Stout from NBeer, and Tko IPA from Boxing Cat, all priced at RMB 45.
Where Forty+ really shines is in its list of imports, which would bring suds to any beer-lovers eyes – from a hoppy and juicy Rogue 7 Hop IPA (7.77 percent ABV, RMB 45), Aftermouth IPA from Black Market (RMB 45), Lupulingus IIPA (9 percent, only RMB 68) and Armageddon IPA (6.7 percent ABV) both from Epic, Undercover IPA, Breakfast Stout from Founders, Hop Fiction Pale Ale from Brewdog (RMB 55), and several options from Ballast Point. Most special perhaps is the Prairie Bomb Imperial Stout (with its outrageous 13 percent ABV) and our long-term love Lizard of Koz (10.5 percent ABV) from Founders, both of which sell for RMB 68 per 300ml and is likely to be the best price you'll find in Beijing.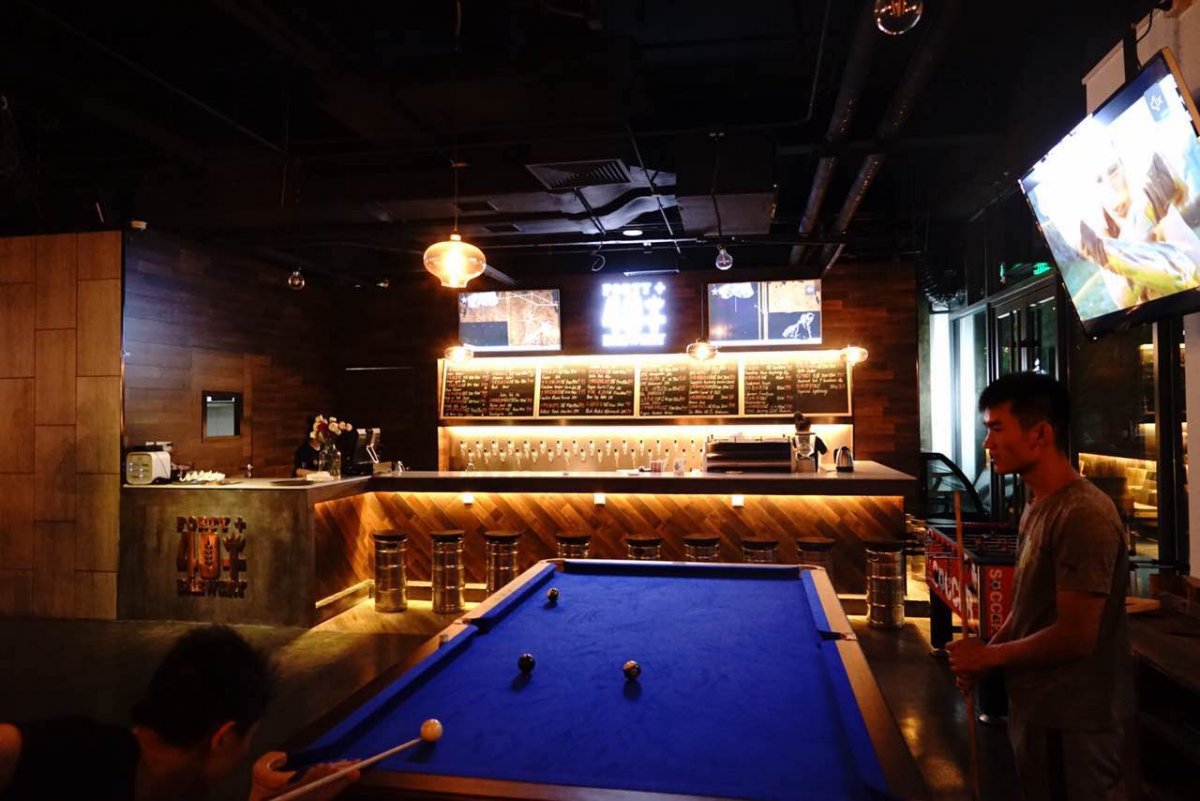 Aside from the taps, which are the focus of the sleek, all-wood bar with 20-liter keg bar stools, the 200sqm space is filled with comfortable leather sofas, a pool table, and TVs. As for food, there are four salads (RMB 38-48), a chicken burger (RMB 48), beef burger (RMB 58), sausage platter (RMB 98), and some bar snacks (RMB 28-48). Although simple, the in-house baked breadsticks (RMB 38) are made using beer-infused batter from 40+'s various beers, making each one different the perfect accompaniment to the main liquidy event.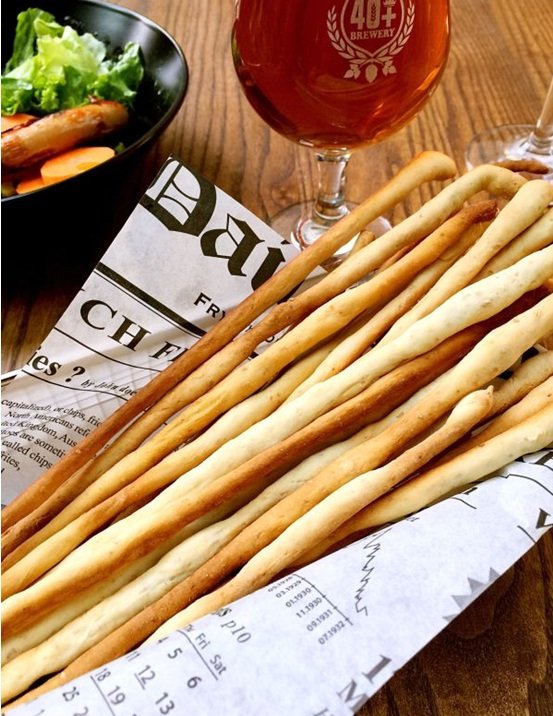 With the so-far unbeaten variety and excellent prices of these well-picked and rotating domestic and imported beers, Forty+ Taphouse is the ideal venue to visit with friends to spend an evening exploring the world of craft beer world. We can see good things happening for this big pub and can't wait to slowly chip away at their selection.
Forty+ Taphouse
Daily 10am-late. East side of Chaowaimen Compound, 26 Chaowai Dajie, Chaoyang District (185 1122 1101)
40+精酿啤酒餐吧俱乐部:朝阳区朝外大街26号朝外MEN公寓东侧底商
More stories by this author here.
Email: [email protected]
Twitter: @flyingfigure
Instagram: @flyingfigure
Photos: Tracy Wang, courtesy of Forty+ Taphouse

Visit the original source and full text: the Beijinger Blog